Are your breasts widely spaced or splayed? That means you can probably put three fingers between them easily. If this describes you, you probably have trouble finding bras that fit properly. If your breasts are wide set, the center of the bra will hit in the wrong place, it won't lay flat, and you'll be uncomfortable.
Find the Best Bra for Wide Set Breasts
There's no perfect solution to this, but there are a few tricks you can use to find a bra that will fit better. Some brands tend to be more suitable than others. For instance, Fantasie and Panache bras generally have cups that are close together with a tall and
narrow center panel
, while Simone Perele tends to have bras with a wide triangle center panel.
Then, there's the style of the bra itself. Here are four tips that will help.
First, some bra styles have no center panel at all. Plunge bras in particular often have little or no center section, so while they're great for low necklines, they're not good if your breasts are wide set (you'll simply pop out of the bra).
Demi cups or balcony styles are a better choice, since the shape of the bra means the cups are further apart. The same thing applies to front closure bras (as the cups will be separated by the clasp).
Second, there are styles that just have cord between the cups. This sort of bra is better if your breasts are widely spaced, as the cord will pull apart to adjust to your body shape.
Third, bras with side support or slings can help too, particularly if you're large busted. The slings and panels help push your breast tissue forward and closer together.
Fourth, if the bra does have a panel, look for one that's wider than average. It will look a bit like a wide triangle with a flat top, rather than a tall, skinny one. Since it's easier to show this than describe it, here are two bras so you can see what I mean.
The first bra, from Wacoal, has a wide center panel and a sweetheart neckline shape. There is a lot of space between the cups, so it's a good option if your breasts are wide set or splayed (going east west).
The strapless one, from Curvy Kate, has a tall, narrow center panel. It's much better for women with larger, close-together breasts. If your breasts are wide set, this style won't fit you very well.
Bras for Wide Spaced Breasts (Full Bust)
I've sorted the bras by the body type (full bust, full figure, small bust, etc. to make it easier to find a bra that will fit your figure).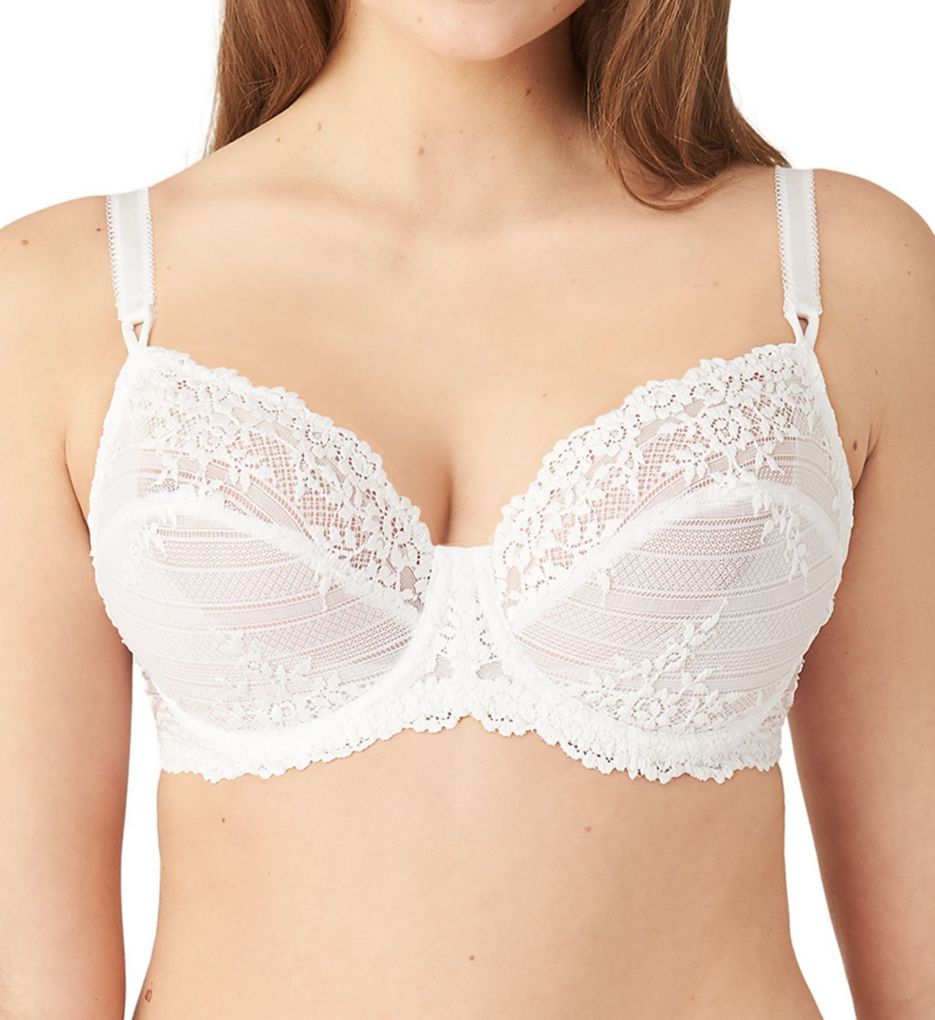 Wacoal Women's Embrace Lace Bra
Embellished with lace on the cups, the sides, under the cups, and along the back, this bra is both gorgeous and supportive.
The seamed cups and side slings provide lots of lift and support while giving you a natural, rounded shape. With all of that, the bra is surprisingly lightweight and comfortable, even at larger sizes. And, while it does have seams and lace, it doesn't show through except under really thin tops.
The cups are set far apart (see that flat-top triangle), so it's a good choice for wide set breasts.
Available in white, sand, yellow, denim, purple, hollyhock, and black. All but the white have contrasting lace. US Sizes 32-40 B-DDD.
This bra also comes in a
t-shirt version,
if you'd rather have a smooth cup. The t-shirt version does run small in the band, so go up a band size and down a cup size to get a better fit.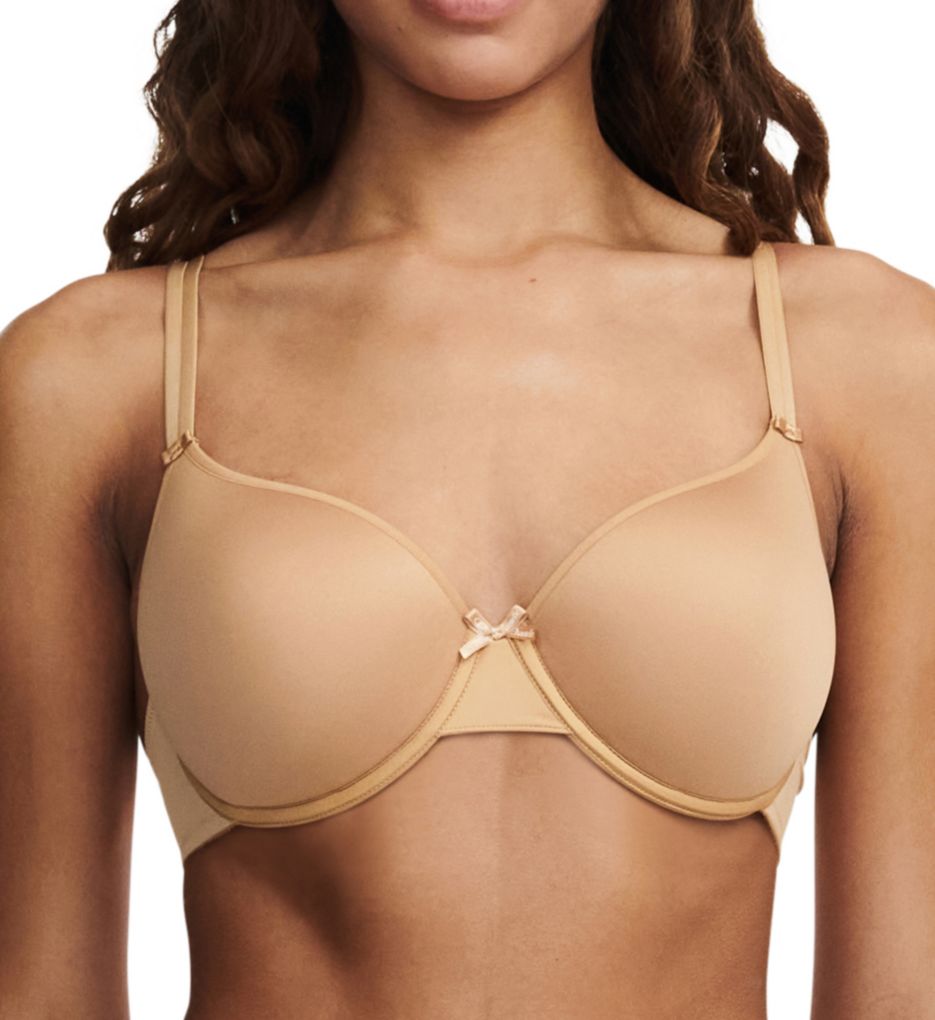 Chantelle Basic Invisible Bra
Made with special material that remembers your shape (and its own) so that it travels well. It molds to fit you and it won't get smooshed in your luggage. The center is nice and wide and there's no band, so it's a good option for shorter women or if you have a large stomach.
Since it's completely smooth (the only decoration is a little center bow) it won't show under your clothes and there's no lace to bother more sensitive skin.
It does tend to run shallow, so it's better if you are too (that means that you are fuller on the bottom).
Also, the bands are a bit big, so you might have to sister size (down a band, up a cup).
Comes in beige, toffee, and black in EU sizes 32, 34, 36 B-G; 38 B-E; and 40B-D.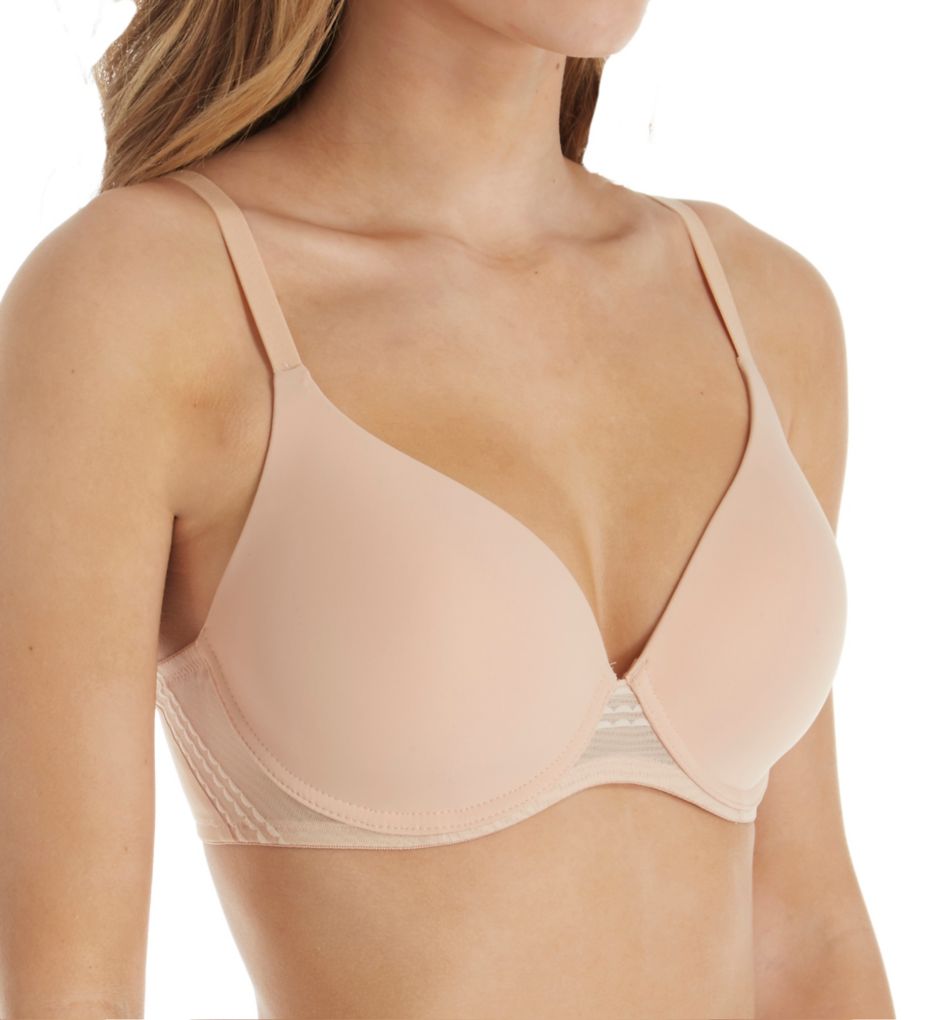 Passionata by Chantelle Freedom Contour Bra
Supportive, and completely smooth, with no lace or bows or bumps.
The center panel is mesh, and wide, so it will fit well on wide set breasts. It's also arched, and the band is quite narrow, so it will be more comfortable against your ribs and stomach.
The straps adjust in the back, and have a J-hook so you can wear the bra as a racerback under a sleeveless top. This will also help if you often have trouble with slipping straps.
The material is breathable, so you'll feel cooler on hot summer days.
Passionata tends to run a bit shallower than its sister brand Chantelle, so keep that in mind when choosing a size.
Available in black and beige in 30D-G, 32-36B-G, and 38B-E.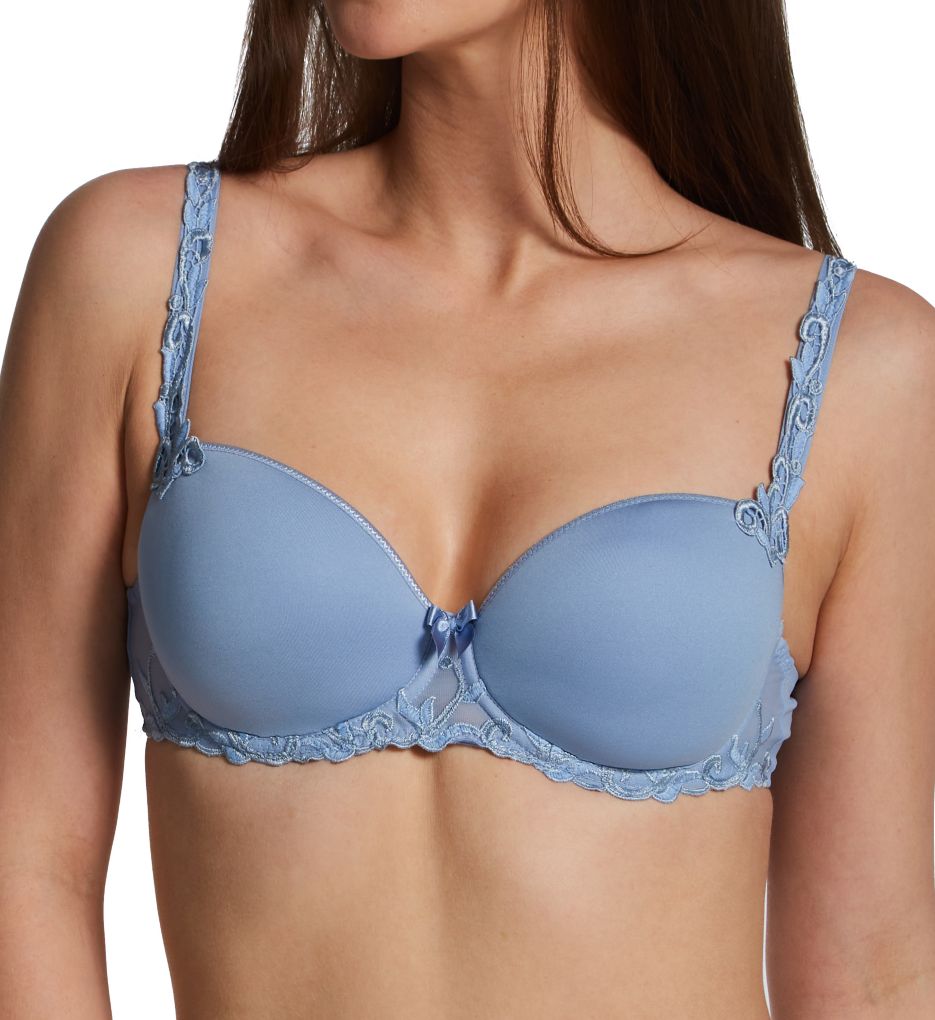 Simone Perele 3D Andora Bra
A truly outstanding bra that gives you something you may have never thought you'd get with wide-set breasts: cleavage!
It has a great fit that hugs your body and pushes you together, creating decolletage even if you can fit several fingers between your breasts.
Since the fabric is spacer material, with no padding, it's still lightweight and comfortable. There's no extra bulk or size added.
Contrasting guipure lace on the straps and along the band adds a touch of elegance and sophistication.
Lots of pretty colors, including white, beige, blush, peau rose, amaretto, henna, sun, sky blue, mulberry, slate and black in EU sizes 30C-F, 32-36B-G, 389G-F and 40B-E.
Bras for Widely Spaced Breasts (Average Figure)
Calvin Klein Women's Perfectly Fit Memory Touch Bra
A sleek, lightweight t-shirt bra that molds to fit your figure. Your body heat activates the foam and it adjusts to fit your shape. Pretty cool!
The center panel is wide (great for wide-set breasts) and arched, so it won't dig into your stomach. There's no band either (which also makes it good if you are petite or have a short torso).
Calvin Klein tends to run small, so keep that in mind when ordering. Comes in US sizes 30 B-DD; 32, 34, 36 A-DDD, and 38B-DD.
While it does come in sizes up to DDD, there are only two hooks and the brand runs small, which is why I am putting it under average figure bras.
Natori Understated Contour Underwire Bra
The wide center and balcony cups make this bra a great choice if you are wide set (and also shallow). The balcony shape is ideal for full on bottom breasts (no gapping).
The straps are thin (even in larger sizes, don't worry, the support is in the band, not the straps), so they are less likely to show under sleeveless summer tops.
Since there's no lace or decoration, it won't show under even thin t-shirts.
In addition, this bra is light and comfortable. It even dries quickly. There is light padding (contour) for shaping, but not enough to make you look bigger or bulkier.
Natori tends to run a little small, so keep that in mind. Also, while this comes in sizes up to DDD, the small sizes only have one hook and the DD and up have only two. I think it's therefore best for smaller sizes (there's just not enough back support if you're busty). On the other hand, it's great if you're small or average busted.
Comes in beige, jasmine pink, and black in US sizes 30A-D, 32 through 36A-DDD, and 38A-DD.
Maidenform Comfort Devotion Embellished Demi Bra
This bra has a great plunging neckline that's perfect for low-cut summer tops. The center panel is wide, and there's pretty lace along the back of the band. It's also bandless, so it's more comfortable if you have a large stomach or if you are short.
US sizes 32, 34, 36A-DD, and 38B-DD.
This brand runs small, so it's best for smaller sizes. Comes in tons of colors: white, gray, black, shell,e latte, black/beige, ivory/shell, navy/white dot, bright pink, pale pink, fuchsia, peach, lilac/gray, and red.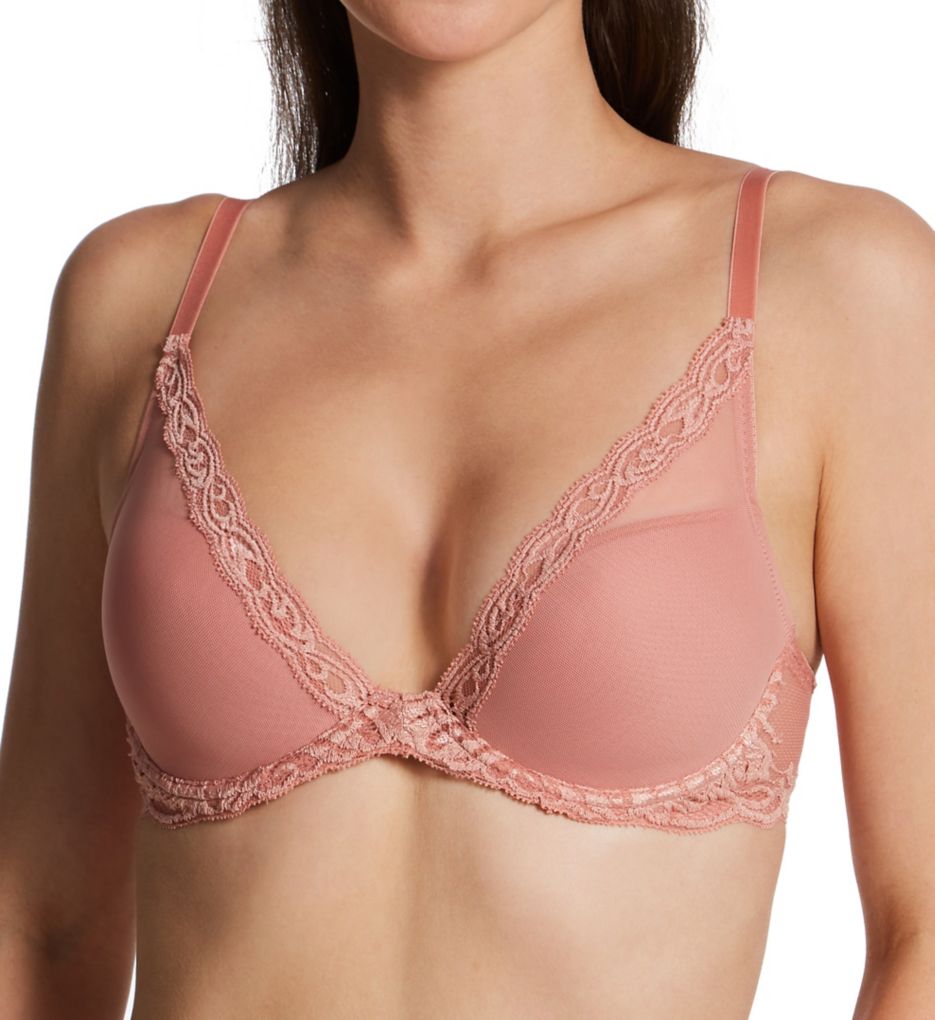 Natori Feathers Contour Bra
A beautiful bra embellished with lace along the cups and around the entire band. There's a sheer inset at the top of the cups for looks, with just a hint of contour padding on the bottom for modesty. The cups are also a bit stretchy, which is great if you aren't even, or don't quite fill out the top of the cups.
The center plunge front is perfect for lower cut tops. Wide-set straps won't show under square necklines or tops with deep scoop necks.
Comes in lots of different colors, but not in all sizes. Most sizes have white, black, beige, then there's jewel, red, truffle, gray, greens, and blues, in US sizes 30A-DDD; 32, 34, and 36A-G, and 38B-G. I have put this in "average" even though it comes in full bust and full figure sizes because Natori tends to run a bit shallow and small.
Bras for Widely Set Breasts (Full Figure)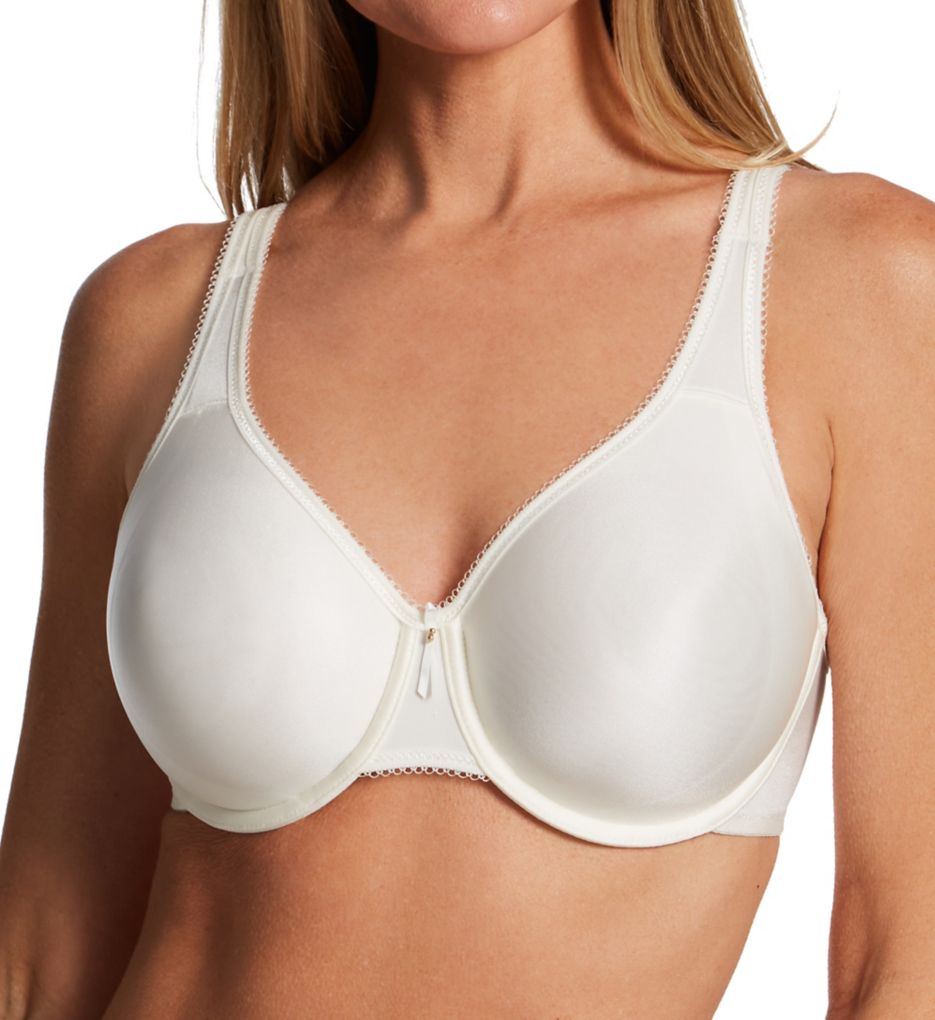 Wacoal Basic Beauty Full Figure Bra
No seams, no lace, no fuss. This bra won't show under your clothes, and it's ideal for larger size or full busted women. The cups go up to an H (US) and there's a side panel to help push you together and forward (rather than side to side).
The center panel is wide (good for wide-spaced breasts). If you have a larger stomach, the arch in the center panel and the bandless design will be more comfortable when you sit down.
The straps are inset and close together in the back, which will prevent them from sliding off your shoulders.
Comes in ivory, sand, navy, and black in US sizes 32D-G, and 34-44 C-H. The cups are running small, so if you're not sure, order one size up.
Vanity Fair Full Figure Back Smoothing Bra
A classic bra with just a bit of lace between the cups and a tiny cross-hatch pattern on the straps. The plunge, wide center is great for wide set breasts. A high back and sides keep underarm and back fat under control.
It's shaped, but not heavily padded. The cups are just thick enough to avoid the "headlight" look.
Since the sides are high, it's likely best if you're taller or have a longer torso.
Comes in US sizes 36D-DDD, 38C-DDD, 40C-DDD and 42C-DDD in beige, black, white, ivory, steel violet, navy, walnut, beige leopard, inky blue, pindot black/white, and peach.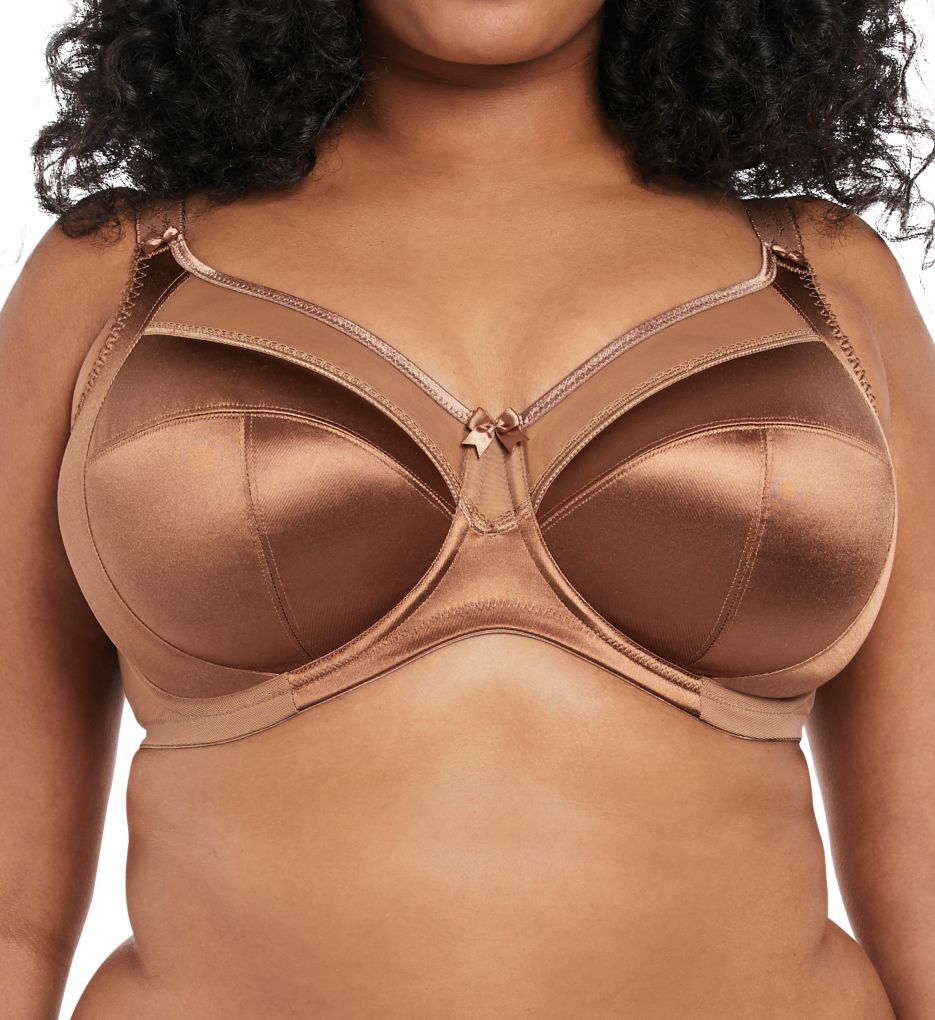 Goddess Keira Underwire Bra
Most fuller-figure bras are designed for close-set breasts. Not this one. And, its also bandless, so it's better for petite women or women with larger stomachs.
The sides and back have power mesh for smoothing and bulge control and the leotard straps won't slip (also good if you're short).
The cups are multi-part (for shaping and lift) shimmery fabric with a bit of sheer mesh on the top for glamour. It also comes in four "nude" colors.
Sizes 34I-N, 36, 38, 40, 42 DDD-N, 44DD-L and 46DD-K in fawn, cinnamon, beige, chocolate, coral, red, white, azure, cornflower, plum, purple, ink blue, and black.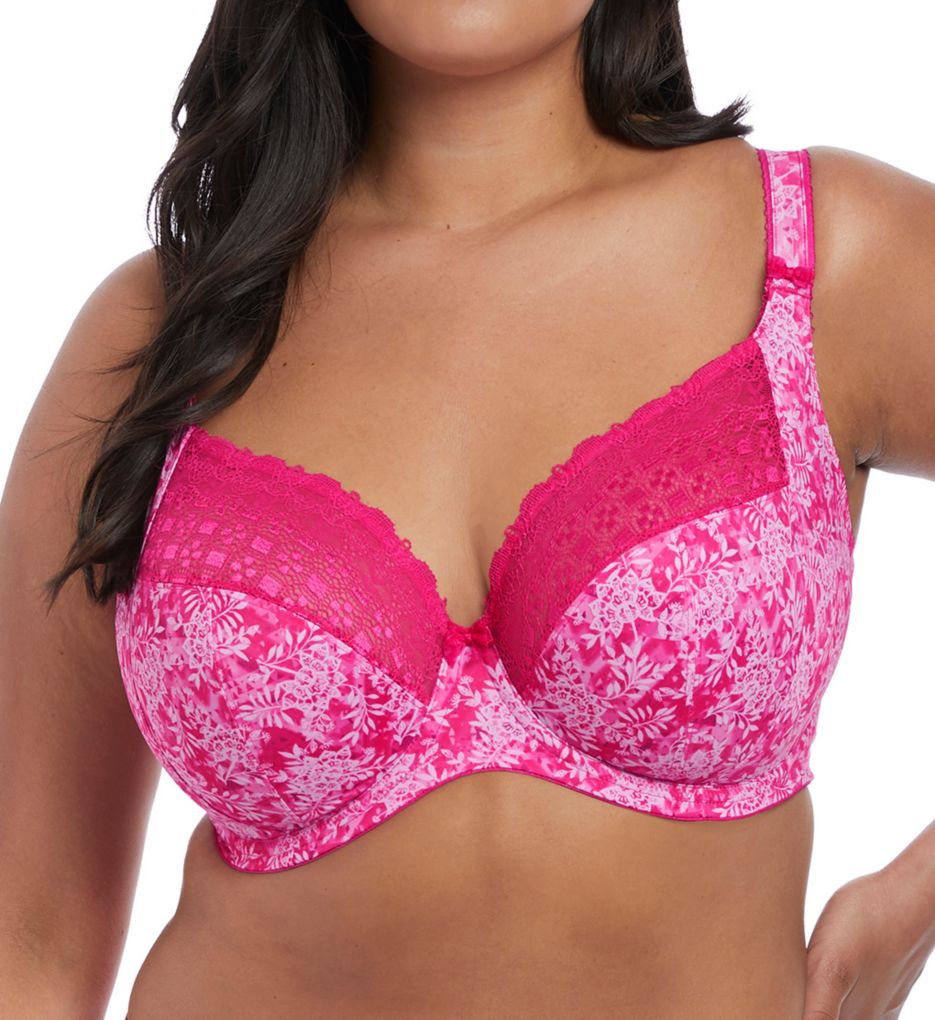 Elomi Kim Underwire Bra
Care for a pop of color or a print? You can have it. Yes, even in the larger cup sizes.
This one has bright colors, pretty designs, and a sheer lace band along the tops of the cups.
Cut-and-sewn styling gives better lift and support for larger cup sizes and there's a support panel encircling the entire bottom and sides for extra lift.
The inset strap design keeps the straps on your shoulders where they belong.
Comes in confetti, red floral, black, and festival pink in UK sizes 32GG-JJ, 34G-JJ, 36-40D-JJ, 42D-HH, 44D-G, and 46D-DD.
Bras for Widely Spaced Breasts (Small Bust)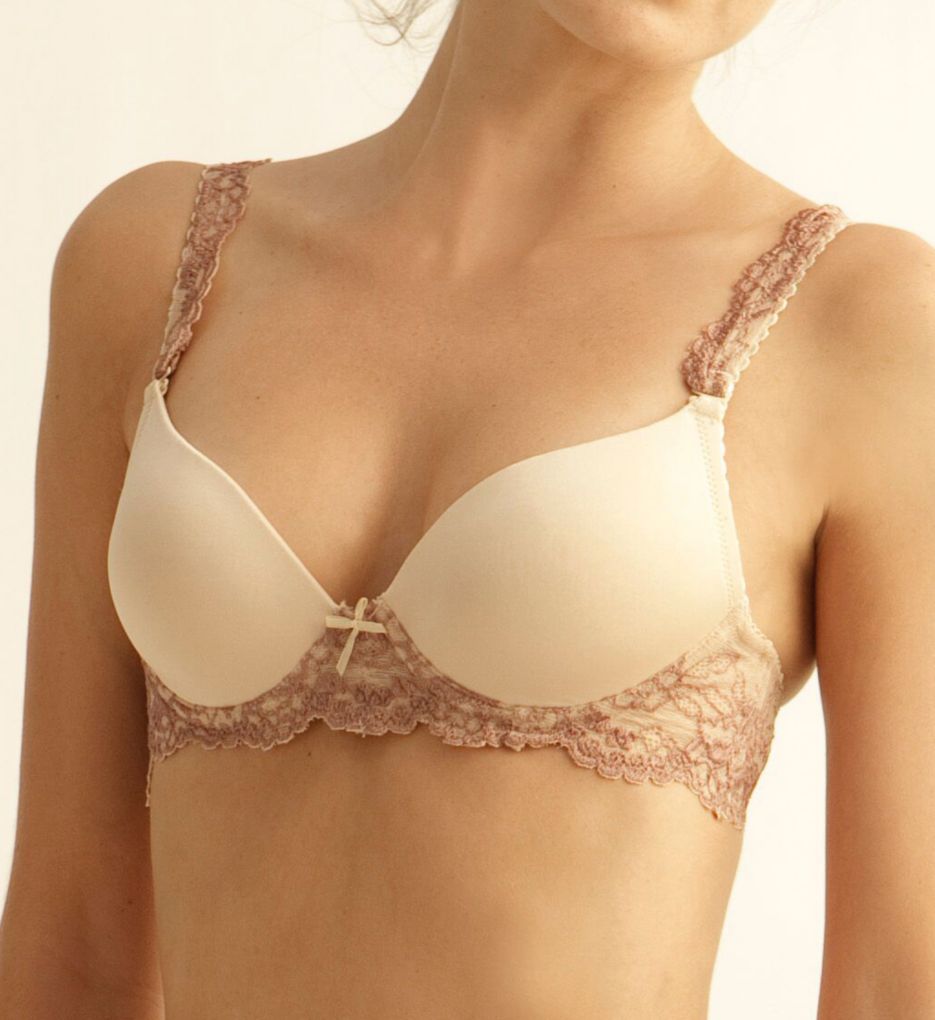 Little Bra Company Yvonne Bra
The Little Bra Company designs bras specifically for women who are both small-busted
and
petite. The center panel is wide, so it's a good option if your breasts are far apart (you can fit two fingers between them).
It's got padding for extra cleavage and shaping, to give you more oomph without looking fake. It's also versatile; the straps can be worn standard, criss-cross, or halter.
The cups are smooth (no seams to show through), with lace around the entire band and along the front of the straps.
Sizes 28, 30, 32, 34 A-C; 36 A and B; 38A in vanilla, lilac, mocha, and black.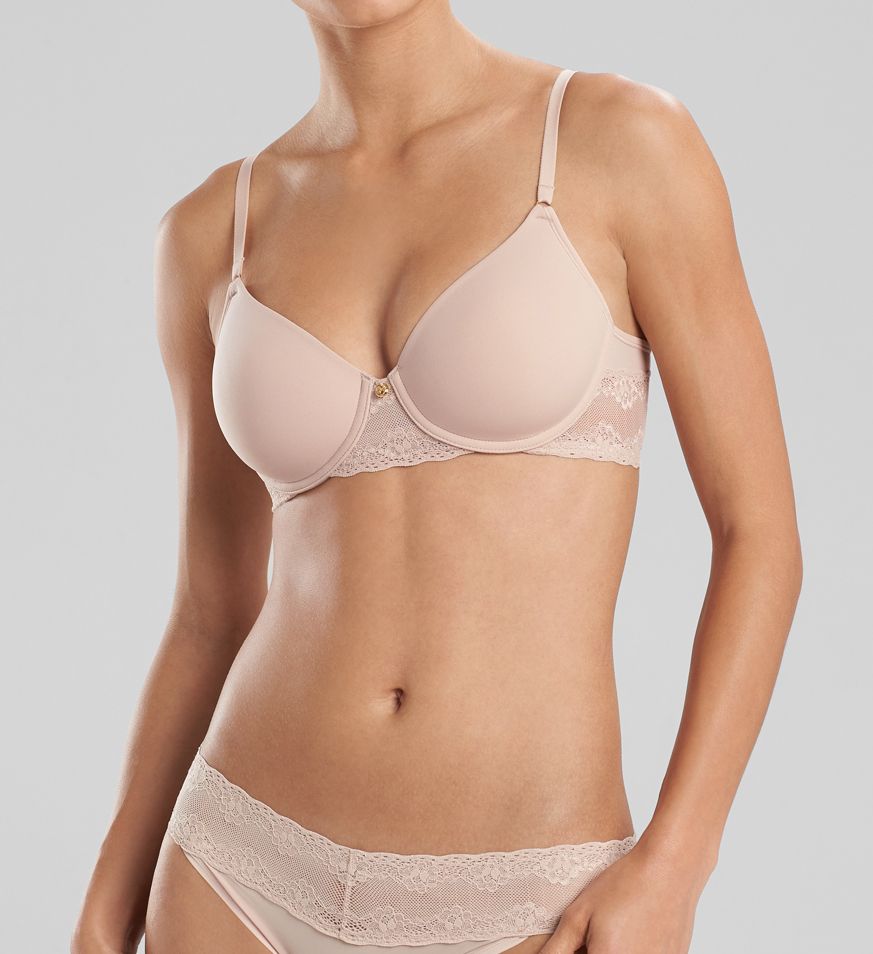 Natori Bliss Perfection
Plenty of pretty colors here (though I think they were hungry when they picked them), and band sizes down to 30 make this bra unique. It's made of smooth, soft fabric with stretchy, flexible cups for a better fit.
The lace center panel is wide so it's ideal for wide-set breasts. There's also lace along the band for a refined look.
The straps are fully adjustable so you can get them just the right length (whether you are tall, short, or somewhere in-between).
It does go up to a G cup, but I think it's not supportive enough for the larger sizes. Stick to the small ones.
Available in US sizes 30-38A-G in cafe, mocha, guava, rose beige, radish red, green pear, ming blue, smoke blue, ink, lilac, plum, purple, raspberry, silver, and black.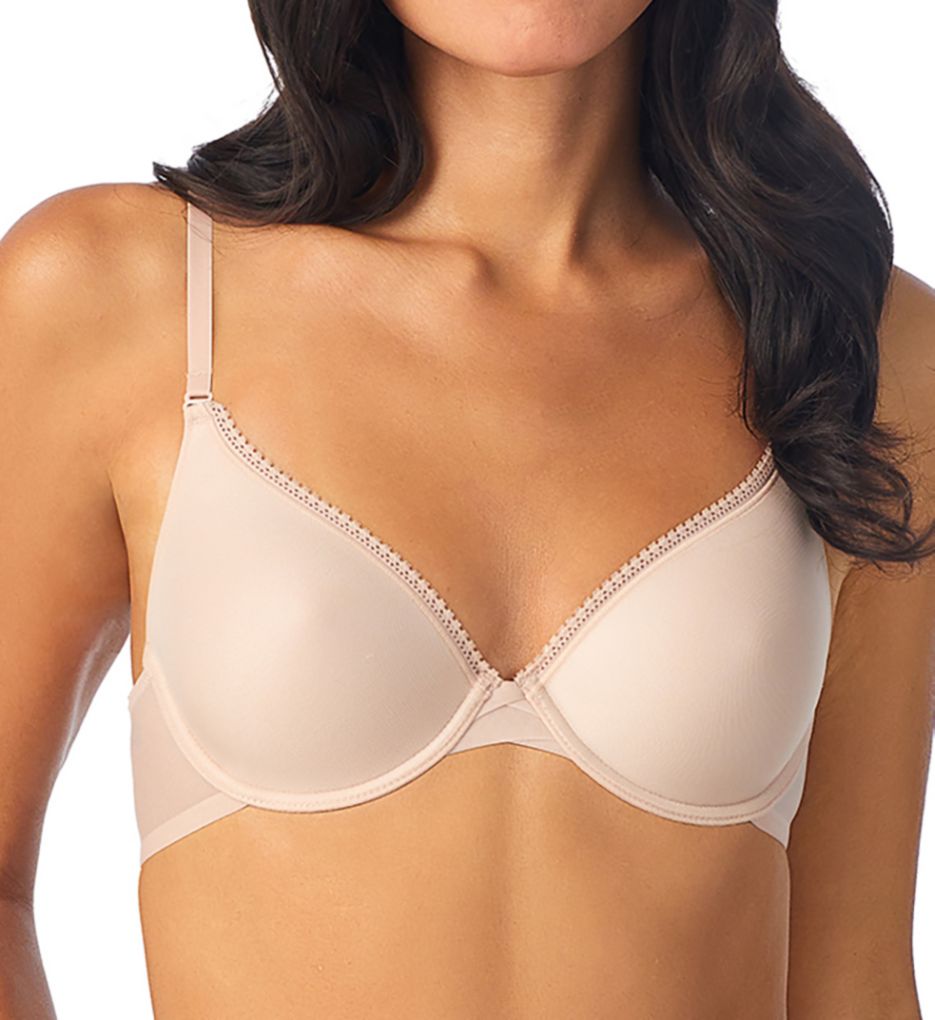 OnGossamer Gossamer Mesh Convertible T-Shirt Bra
No lace, no fuss and nothing to show under your clothes. It's got thin straps that won't peek out under your tops. Or, if that's not good enough, move the straps in (to create a kicked-in back) on the extra tabs, or just convert it to criss-cross or halter to suit your outfit.
It does have some padding, but not excessively so, just enough to hide the "headlights" from the world.
The wide center panel is more comfortable if you are wide-set. It's also arched so it won't rub against your stomach.
Blush, vermillion, lagoon green, ice pink, mocha, sangria, champagne, black, and cosmo pink in US sizes 30A-D, 32-36A-DD.