Spilling out of the back or sides of your bra is no fun. Especially when you're working out and want to keep everything contained. Not to mention, if you're at a gym or running or otherwise in public, it's…not a good look. Swooping and scooping can help when you're planning on doing something sedentary, but it's not that useful if you are bouncing or moving around. If you have bulges under your arms, or carry back fat, you want a sports bra that can hide back fat or side fat, contain the extra tissue, and keep you looking smooth while you exercise.
You'll want a bra with a higher back or sides to help everything look flatter and sleeker. Another helpful feature is a bra with power mesh material in the back and sides. Think of power mesh as a bit like control pantyhose material for your bra. It helps smooth you out and make you look better. Don't fall for the trap of trying to get a larger band size to hit the bumps. That will just make everything worse, as the band will push up and make the rolls look worse. And, it will be uncomfortable too— even worse when you (and the bra) move around.
Keep in mind that the band on a sports bra should generally fit more snugly than a standard bra for better support. And, you should fit normally inside the cups. Any spillage will be exacerbated when you run or jump. Try it on and jump or box or practice whatever sport you intend to participate in, to test whether the bra will keep you in place and support you properly.
If you are a D cup or above, stick with encapsulation bras. Compression bras won't have enough support and can cause the dreaded "uniboob" effect.
And, of course, the bra should also do its job of preventing your breast tissue from bouncing up and down while you work out.
Every bra on this list will give you the back and side smoothing you want. I've sorted them by size range/body type (full figure, full bust, average figure, etc.) and labeled them to show whether they are suitable for low, medium, or high impact exercises.
Full Bust Sports Bras that Minimize Side Fat and Back Fat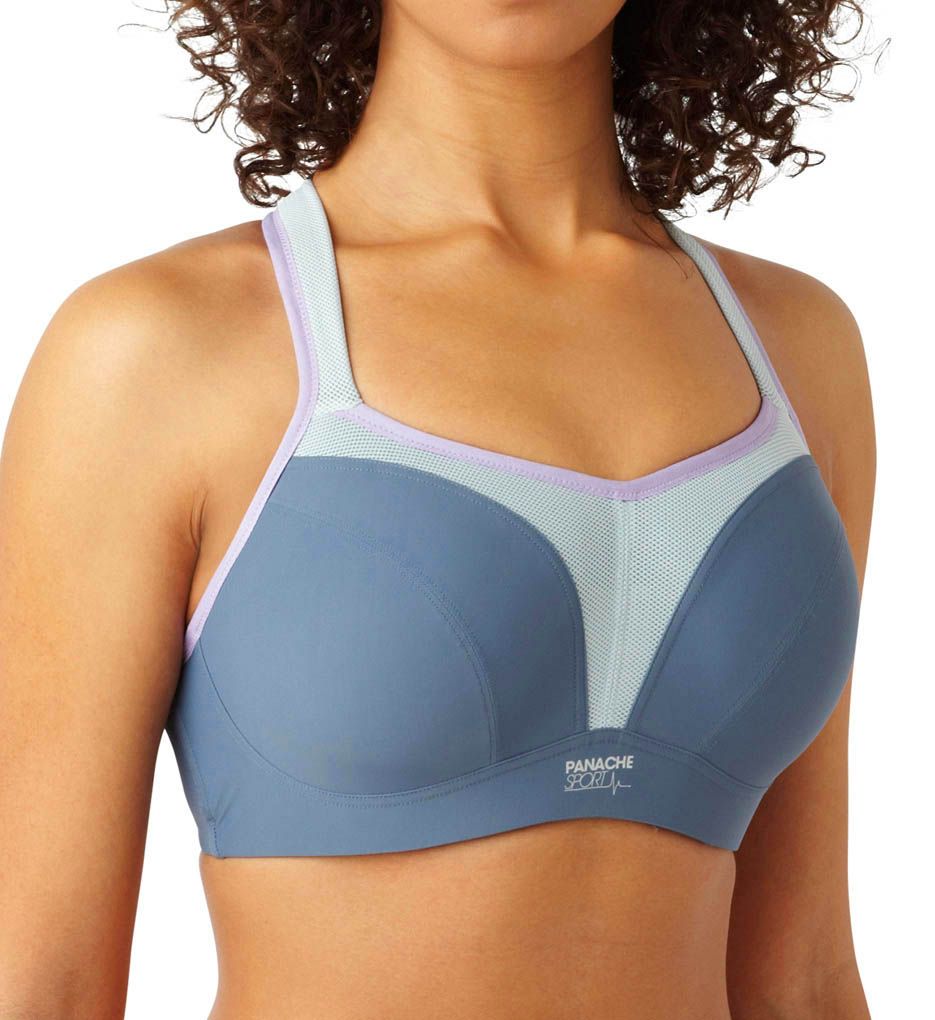 Panache Underwire Sports Bra 5021
Ideal for running while busty, this bra will seriously reduce bouncing, no matter what sport you try. It's got great shaping and support too (no uniboob). There's a racerback option so you can keep the straps off your shoulders while you work out.
Inset straps are designed to keep them from falling off your shoulders. That's also a bonus if your shoulders are narrow, since the straps are less likely to slip while you move around. The front mesh in the center is breathable, so it stops under-bust sweating, and the allover fabric is designed to push moisture away from your body.
Powermesh (there's that control top fabric again) on the back and sides help smooth out unsightly lumps and keep you confined inside the bra where you belong.
You don't have to settle for basic black or white either, it's also available in lime/cobalt/ gray/mango, beige, abstract ice, abstract paint, kaleidoscope, cyber print, pixel, geometric and stripe prints.
UK sizes 28D-H, 30D-H, 32C-J, 34B-J, 36B--HH, 38B-HH, 40D-GG.
High impact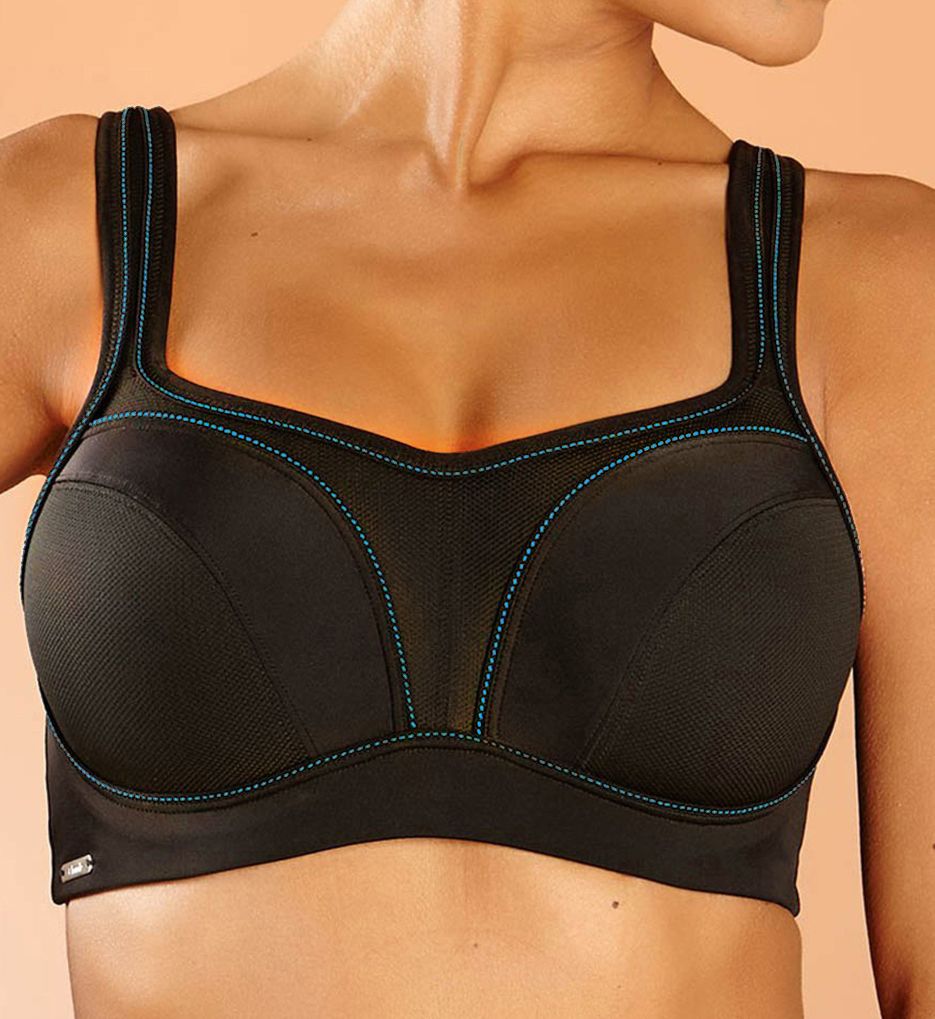 Chantelle 2941 High Impact Underwire Sports Bra
Great coverage and support, as well as a bit of padding (to hide the headlights) add up to a great bra for larger busts. The underwire is exceptionally flexible so it won't dig into your stomach and will move with you as you exercise.
Powermesh sides and back smooth out bulges, stretch with you, and wick moisture away from your body. The straps are inset, to stop slipping, and also feature a J-hook to convert the bra to a racerback style. They're also padded, to be more comfortable and reduce chafing. It contains, lifts, and supports so well you can even wear it when you're not exercising.
One more thing, the band has four sets of hooks (not a column, but rows), so that you can make it tighter (and get more wear out of it) than most bras, with only three rows. The band runs tight, which is good for higher impact sports, but sister size down a cup and up a band for a more comfortable fit.
30D-H, 32-40 C-H, 42C and D in black with contrast stitching
High impact
Sports by Impact Levels
If you're not sure what impact level you need, here are some guidelines:

Low impact: walking, yoga, Pilates
Medium impact: cycling, hiking, skiing
High impact: running, gymnastics, jumping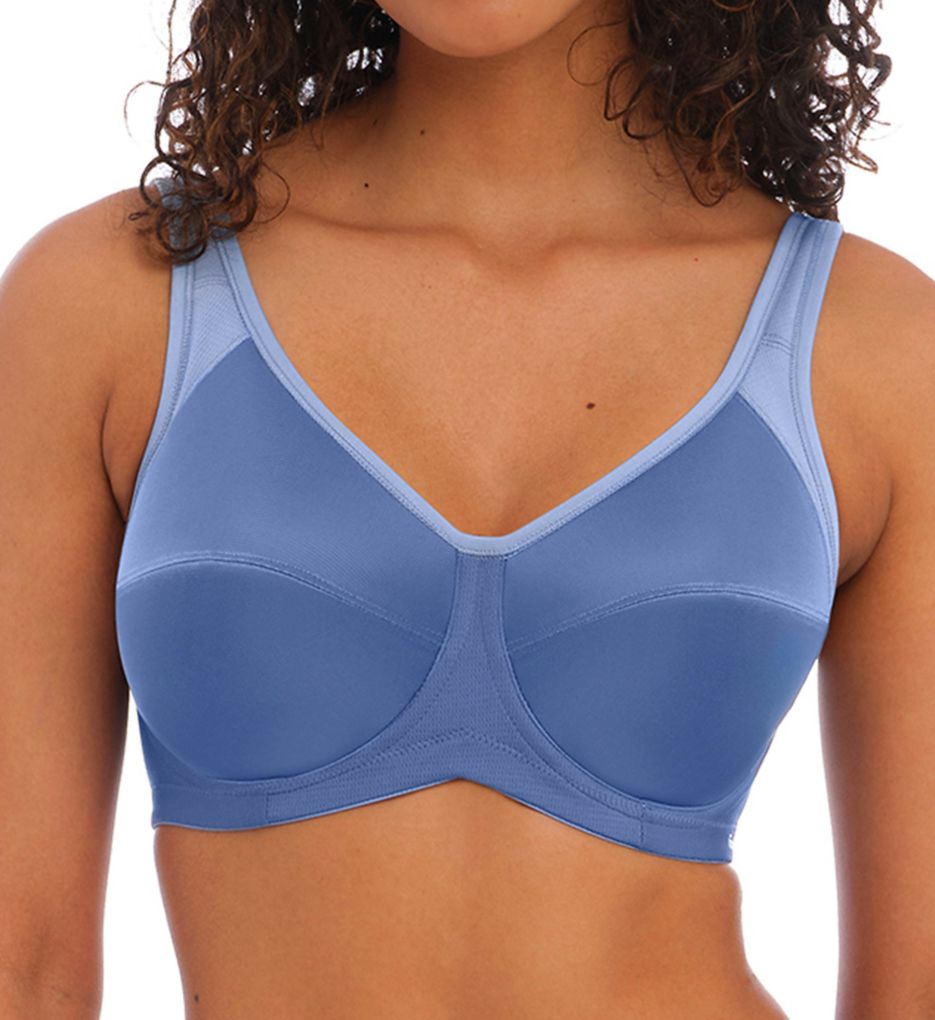 Freya Core Underwire Sports Bra AA4002
Jump, run, or head out to the trampoline park, you won't bounce around in this bra. It has excellent support, as well as shaping. See those seams? They lift and round your breasts, so you never look like you have only one boob. It's also available in an extensive size range, including the rare 28 band and up to a K or JJ cup, depending on band size.
The fabric is soft and specially designed to dry quickly so you won't feel sweaty during or after your workout. Nobody wants bra sweat.
Wider underwires are more comfortable, and great if you have wide breasts. And the bra arches in the center, which is better if you have a larger stomach. The sides and back are tall, for better smoothing and bulge taming.
Beige or black in UK sizes 28D, DD, E, F, FF, G. 30-36D, DD, E, F, FF, G, GG, H, HH, J, JJ, and K, and 38D-JJ.
High impact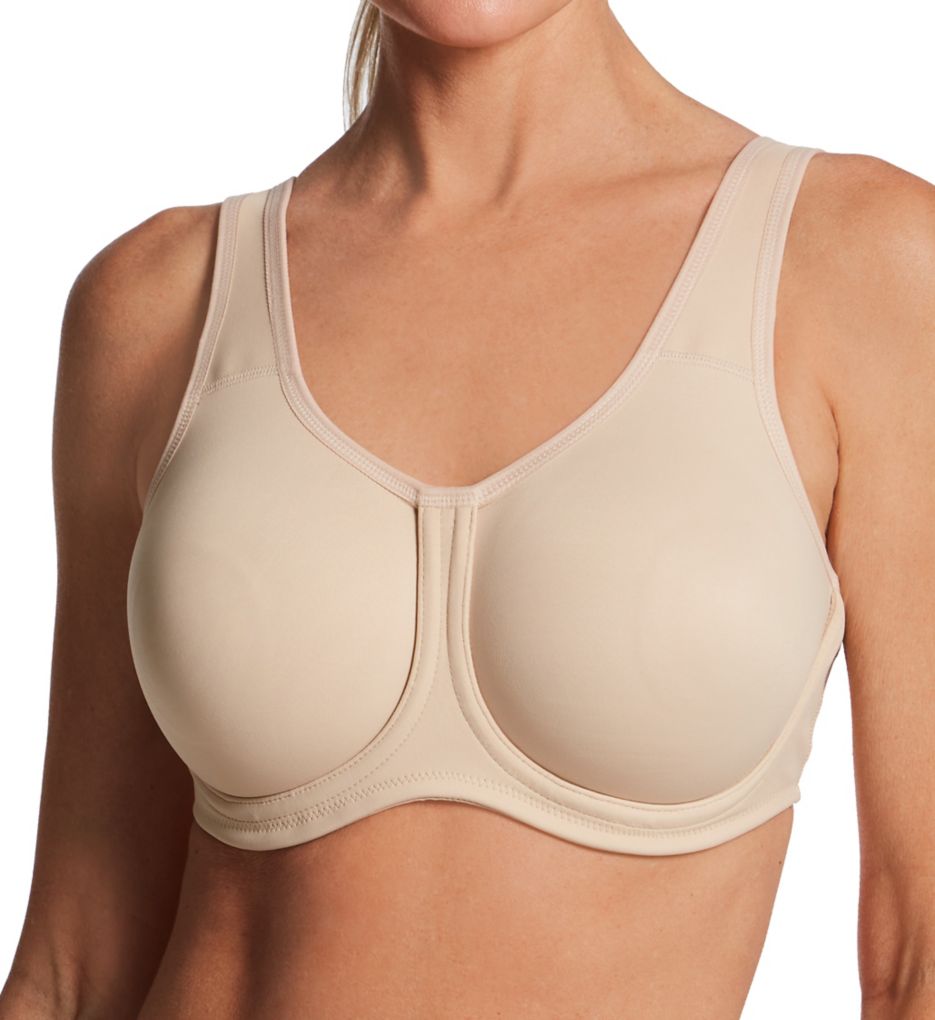 Wacoal Underwire Sports Bra
The unique strap design lets you lock in the adjustment so it won't slip. Essentially, inside of slide the buckle along the strap, there are six fixed "stops". An extra bit of fabric underneath the strap keeps the adjustment hook away from your skin, so it won't rub and cause irritation.
One more unusual feature on this bra: the underwires are essentially on the outside. You may think, at first, that you're putting the bra on inside-out (check the tag side!) but while it may seem odd at first, it's actually a comfort feature. Since the wires are outside, they won't rub against your skin and chest, especially while you are jumping around.
The sides and back are tall and made of mesh that will smooth you out and also keep you cooler, allowing moisture to escape.
Comes in beige, black, blue, and purple. US sizes 32, 34, 36, 38, and 40 C-H; 42D-DDD.
High impact
Sports Bra Care Note
If you get a dark color, wash it separately a few times (like jeans) to make sure it doesn't run. It's best to hand wash your sports bras (and really most bras) because the elastic, wires, and padding can break down in a washing machine.

If you absolutely must put them in a machine, hook the back together and put the bra in a mesh lingerie bag. Then wash on gentle cycle in cold water.

Don't put them in the dryer (actually don't put any bra in the dryer) as it will wear them down faster and the heat will break down the material and the wires. Lay them flat to dry, or drape them on a rack (with the center of the bra over one of the rods and the straps hanging down on either side).


Full Figure Sports Bras That Tame Underarm and Back Bulges
Elomi Energise Underwire Sports Bra
If you like the Elomi Cate, this bra is for you. It's modeled on the same frame, but transformed into a sports bra. There are four part cups and side support panels for great lift, support, and shaping, without uniboob. And, it will keep everything in place so you can jump and roll and kick without having your chest knock on your face.
The back and sides have power control fabric to prevent back fat and underarm bulges, and there are also extra panels in the sides to push you forward and out from under your arms. The sides and back do get taller as the bra size (band and cup) gets larger, so it may not work if you are at the higher end of the size range and have a short torso.
The straps can be worn standard or racerback (with a J-hook), allowing you to get a bit more support, and concealing the straps under a sleeveless top.
It's made out of moisture wicking fabric, which will keep you cooler and (incidentally) is also good if your inner body temperature is having mood swings.
With all of that, it still looks an awful lot like a regular bra, so you could use it that way if you want.
Comes in black, white, navy, red, charcoal, and beige.
UK sizes 32GG-J, 34G-K, 36DD-K, 38D-K. 40D-J, 42D-H, 44D-GG, and 46D, DD.
High impact
Vanity Fair Sport Full Figure 76500 Bra
This bra delivers both comfort and a style that's close enough to a regular bra to wear even when you're not exercising. It's got built-in ventilation to keep you cool throughout your day.
This is a full figure style, so the straps are a bit wider (for more comfort) and the cups are slightly larger (for better containment) than an average figure bra. It also has tall, power mesh back and sides to keep you looking smooth.
The power mesh also adds moisture wicking and better stretch (since it stretches in every direction), it will be more comfortable. It's seamless, so there are no lines to show under your clothing. If you hate wires, it also comes in a
wire-free version
.
Black, damask, white, pale pink, fuchsia
US 36C-44DD
Full figure
Medium impact
Glamorise Magic Lift Active Support Sports Bra
A great bra if you prefer less vigorous exercise, such as walking or yoga, but still need full figure support. This bra goes up to a 50 band and K cup! Since the cups ares partially cotton, it's cooler and naturally breathable and moisture-wicking.
There are seams and inner slings for shaping, but no wires! Instead of wires, there's a power mesh wide band for added support and comfort. In addition, the sides and back have more control fabric that will stretch to fit you, pull moisture away from your body, and tamp down on unsightly bulges and back fat.
And, it's another bra that looks a lot like a regular bra.
Available in white, beige, and black; cups go from 38-50 B, C, D, DD, F, G, H, I, J, and K (UK sizes).
Low impact
Average Figure Sports Bras for Side and Back Fat Control
Champion Motion Control Bra B1522
A running sports bra that's not too pricy and comes in actual sizes, including D and DD cups. It's also wire-free (a bit less support, but no wire to rub against your skin). The straps can be worn standard or criss-crossed for extra hold and to help keep the weight off your shoulders.
It's constructed out of moisture-wicking fabric to keep you drier and more comfortable while you work out. The encapsulated styling keeps your bust supported and minimizes bouncing so you're more secure while you work out. The sides and back have power mesh for better stretch, shaping, and bulge management.
Black, beige, pink, blue, and white in US sizes 34-42B-DD.
Average bust
High impact
Brooks Moving Comfort FastForward Zip Front Sports Bra 300637
Made for moderately intense activities, such as cycling or hiking, this bra is wire free and has a wide band to keep it in place. A front zipper closure is easy to open and locks into place when you close it. It's a great feature if you have trouble reaching around your back to fasten your bra.
The cups are padded (for comfort, rather than size, to reduce chafing as you move around). If you don't want the pads, or are doing something less strenuous, you can remove them.
Powermesh on the back, sides, and straps stop bulges and add moisture control, pushing wetness away from your skin. It will also dry quickly.
It's got a racerback, so the straps are less likely to slip.
Sizes S-2X (equivalent of UK sizes 32C-E, 34-38 A-E and 40 C-E)
Average Figure/Some Full Bust
Medium Impact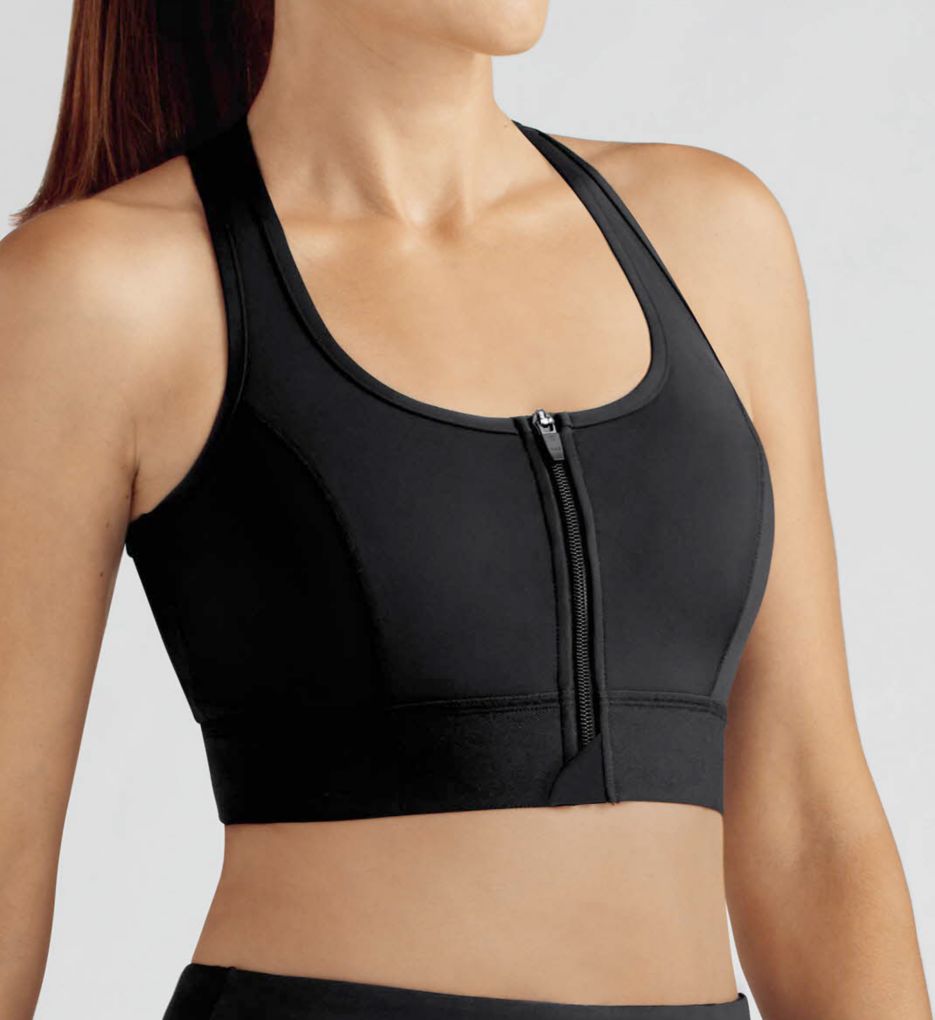 Amoena 44070 Zip Front Sports Bra
If you want to exercise after breast surgery, this bra comes with pockets for a prosthesis (sold separately). There's also a bit of padding for shaping.
It has a zip front closure, which is great if you've had surgery, and have trouble reaching behind you to close a back fastening bra. The zipper has a soft lining, so it won't rub against your skin and cause irritation.
It's wire free, but the band is extra-wide for improved support and stability while you exercise (in other words, the bra will stay in place better). Power mesh material keeps moisture away from your body and minimizes side and back fat bulges.
Black
Sizes S-XL (equivalent to US 32-42B through D)
Medium Impact