Menopause and perimenopause can leave you hot, sweaty, and miserable. Body and hormone changes can make you hot one minute and chilly a few minutes later. Besides the hot sweats (and the word night sweat is a definite misnomer), you can have other changes which make buying or wearing bras difficult.
Since many bras are made with fabrics that aren't breathable or moisture-wicking, that just makes the problem worse. You may find that previously comfy bras are now sticking to your chest and trapping moisture next to your body. Since taking multiple daily showers usually isn't feasible, you need something made out of materials that will help you stay cool and dry.
Menopause can also cause some women to gain weight. Some get it in the midsection, while others find that the weight ends up in their chests. If that's where you gain weight, you will need a larger bra size than you'd been wearing before. Make sure to measure yourself (or get measured) so you have a better idea if your size has changed and what size you need. Check this page on
getting a bra that fits
for more tips on how to find the right size.
Even if you stay the same size, old bras that once fit just fine may now make you miserable. The hormonal fluctuations can lead to swelling, tenderness and soreness (kind of like semi-permanent PMS). Your old bras ride up on your torso, the wires dig into your chest, and the bra sticks to your body. Banded bras may suddenly either poke you in the ribs or end up too high on your chest. It's uncomfortable and can make you want to tear the bra off ten minutes after you put it on.
You may also find that you end up with breast tissue that is sagging or deflated and that you need more support than you used to. Once your hormones have stabilized, try this list of
bras for sagging breasts
.
Since the perimenopause/menopause cycle can go on for years, it's important to be as comfortable as possible while it does. I've grouped these by feature, but I've listed the size ranges and the appropriate body type at the end of each description.
Stop the Bra Sweat
First, there's the problem of sweating. Bras made of cotton or moisture-wicking materials will be more comfortable and less sweaty than bras made of standard fabrics. They won't be labeled for menopause, but the idea behind names like "cooling touch" or "play it cool" is to minimize moisture and discomfort.
Banish the sweat, and keep cooler with one of these bras.
Fruit of the Loom Extreme Comfort Cotton Bra
Cool, comfortable cotton keeps those hot flashes under control. It breathes, it washes well, and it's soft against your skin. A good choice if your skin is sensitive, since it's nearly entirely cotton.
It's bandless so it will also be extra comfortable if you are short or have a larger stomach (banded bras tend to rub, and can be less comfortable if you are swollen). A wide center panel makes it a good choice if you are wide-set.
Most of the colors are completely smooth, with no lace or trimming to show under clothing (there are two colors, white and beige which have the option of a bit of lace trim along the edges of the cups).
Comes in white, sand, cobalt blue, pink, red, heather gray, and black, plus white and sand with lace. US sizes 34B to 44DD. (average cup)
Maidenform Custom Lift Underwire Bra
Technically, this is a sports bra. But it doesn't look like one. The cups are made of material which keeps moisture away from your skin (so you won't feel hot and sticky). There are also mesh panels on the sides.
The cups have padding and push-up for a bit more oompf. You can wear the straps the standard way or criss-cross. And, if you want, you can wear it for a light workout too.
Comes in US sizes 34A-38DD in white, hot pink, heather gray, black, and blue. Maidenform tends to run on the small side, so keep that in mind. (average cup)
Wacoal Basic Beauty Spacer T-Shirt Bra
The secret to this bra? Spacer foam. It's knit with little air pockets built right into the fabric to improve circulation and allow more air to pass through the bra (don't worry, nothing shows!). That makes it much lighter and cooler than the fabric in a standard bra.
There's some padding, but it's still thin and much less bulky than standard t-shirt bras. The straps are inset and it has a leotard (U-shaped back). The straps won't slide off (even if you have narrow or sloping shoulders).
Plus, a wide back band and side boning keep lumps and bulges under control. The side support also helps push your tissue forward to keep everything front and center.
This one comes in full bust sizes. So you can get a band as small as 30 and cup sizes from D to G (depending on band size).
Comes in seventeen different colors (!) including beige, taupe, ivory, white, black, blues, pinks, wine, and red US sizes 30D-DDD, 32-40 C-G and 42D-DDD. (full bust/full figure)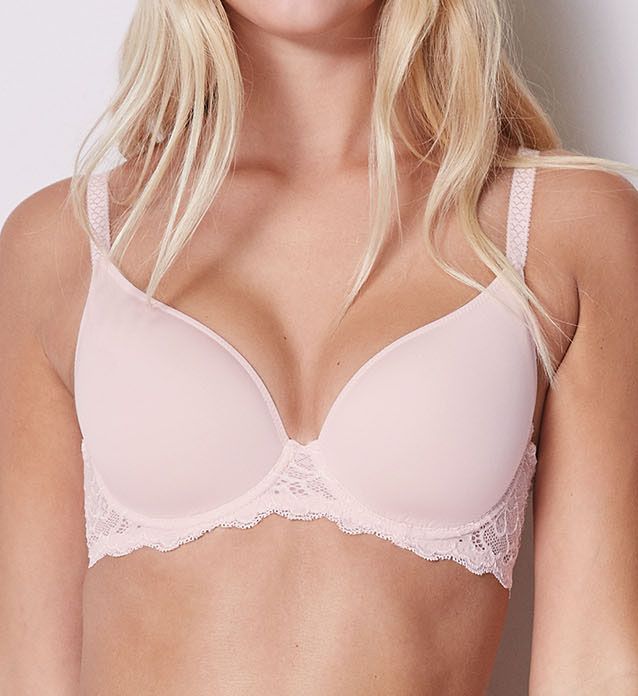 Simone Perele Caresse 3D Bra
A bra with smooth foam cups (for modesty), embellished with scalloped floral lace along the bottom and the back of the band. The 3D fabric makes it comfortable and breathable.
The straps are fully adjustable so you can get them just the right length even if you are tall (or have a short upper torso - yes, in this case the same feature works for both ends of the height scale).
It's so comfortable you may forget you are wearing it.
Comes in white, sand, blush, berry, scarlet, french blue, indigo, rose, and black in EU sizes 30-34 C through G; 36 B-F; 38B-38E and 40 B-D. The cups are running a bit big, so you may want to go down a cup size and up a band size. (full bust)
Glamorise Magic Lift Cotton Wireless Support Bra
Soft, cool, breathable cotton! Yay! There are no wires to dig into your stomach or armpits, but this bra still gives great support. There's a band that wraps around the inside of the cups and connects to the straps (like a super-sling) so you'll get good support and lift even without a wire.
The straps are padded to be more comfortable. It does have horizontal seams, which will give you a more conical shape. If you have trouble with back and side bulges, the tall sides and back will help keep bumps under control.
And, it's pretty too.
UK sizes 38-58 B, C, D, DD, F, G, H, and I in pink and white. (full figure)
Banish the Underwires
If the underwires start to bother you, go for a wire-free bra instead. There are bras with stronger bands, control top materials and other features that will still give you decent support, even without a wire. And, since there's no wire, there's nothing to dig in or poke tender tissue. As a bonus, these bras are made of cotton or other breathable materials, so you can keep your cool while wearing them.
Bali Double Support Cool Comfort Wire-free Cotton Bra
This bra is 86% cotton, to keep you cool and comfortable. The fabric is slightly stretchy for a more custom fit and it's completely smooth (no seams or bumps to show under your clothes.
It's not a t-shirt or contour bra, so it will mold to your shape (rather than having one of its own). However, it's also double-lined for modesty and better support.
The back has a leotard U-shape so the straps will stay in place and not slide off your shoulders.
Comes in white, taupe, and heather gray in US sizes 34B-D, 36, 38, 40 B-DDD and 42C-DDD. (average cup/full figure)
Bali Double Support Cool Comfort No Wire Bra
If you prefer a silkier fabric, this bra has the same styling as the cotton bra above. It also comes in more colors and prints as well as a wider variety of sizes.
There's no lining, but the fabric is fairly thick to minimize show-through. The banded bottom gives a bit of extra lift and support without any wires. Some of the larger sizes also have boning in the sides for better support. It runs a little big in the cup, so you may want to try a smaller cup size than usual in order to get the right fit.
Comes in 18 colors, including white, ivory, light beige, tan, leopard print, latte, several shades of pink, lace print, red, lavender, and multiple shades of blue in US sizes 34B-DD, 36-44B-DDD, 46-48C-DD. (average cup/full figure)
Olga Play it Cool Wirefree Bra
Keep cool with a bra that won't make you think you'll melt when your temperature spikes. There's some light padding, but it's not thick or heavy. The lining pulls moisture away from your skin to keep you comfortable. The straps are padded for extra comfort.
A plunging neckline and smooth cups allow you to wear this under v-neck t-shirts or thin tops without worrying that anything will show through under your clothes.
Comes in US sizes 36C-44DD in gray/black, almond, pale blue, sea blue, violet, and white. (full figure)
Warner's Play it Cool Wire Free Cooling Racerback Bra
Special material inside the cups of this bra helps keep moisture away from your body and prevents you from getting overheated. The cups are contoured (molded into a specific shape), so there's no show through and it's smooth under clothing. It's a racerback and the straps adjust in front, so you don't have to twist and turn to put it on.
It's a low cut wide plunge style, so if you are close-set, this may not be the best choice for you (you may spill over into the middle).
Comes in gray, toasted almond, and white in US sizes 34-40 A-C. (average cup)
Fruit of the Loom Seamed Wirefree Cotton Bra
Entirely cotton, except for a bit of elastic where the straps attach, along the top of the band, and on the tops of the cups (this makes it fit better). Otherwise, it's just pure, cool, comfort. There are no wires to poke you.
There's no padding either, but the bottoms of the cups are thicker to prevent show-through. Seaming gives you more lift and a better, more rounded shape.
The high back and sides provide bulge control and keep you looking smooth.
Available in white, beige, and heather gray in US sizes 36D, 38B-D, 40 B-DD, 42B-DD, and 44 C -D (full figure).
Try a Sports Bra
Or, get a sports bra. Since they're are designed to remove moisture, they will keep you cooler. And many don't have a wire to start with. I've listed both underwire and wire free styles below. If you do get the sports bra, sister size to a larger band, smaller cup. It will be more comfortable.
Bali Active Classic Coverage Underwire Sports Bra
Another sports bra that really doesn't look like one. You can wear it as an everyday bra (even if you don't plan to exercise). Put it on to go to work and then wear it after (or on a weekend) for power walking, yoga or low impact sports.
It's made from breathable, moisture wicking fabric that pulls wetness away from your skin, so you feel cool and comfortable. The center is wide, so it's better if you are wide set. There's only a thin underband and the center is arched, which also makes it a good choice if you have a larger stomach.
The straps are pulled in (close set in the back) so there's less chance of slippage.
Comes in white, champagne shimmer, several shades of pink, heather gray, turquoise, fuchsia, lavender, mint, and black in US sizes 32-42 B through DDD. (average cup/full figure)
Wacoal Body by Wacoal Front Close Underwire Bra
This is a sports bra, but it sure doesn't look like it. The sheer panels add a touch of elegance, while the super breathable fabric makes it practical and easy to wear. Wear it to work, for a night out, or off to the gym for a light workout.
There are no seams to show through your clothes and no bulky padding either, and the racerback won't show under tank tops. This style is best if you are wide-set, shallow, or tend to point in opposite directions. It's also bandless, which is more comfortable if you have a larger stomach, or if you are bloated.
Get this one in your sister size for better fit (band size up, cup size down).
Available in white, toast, capri blue, red, purple, and black in US sizes 32C-DD, 34-38 B-DD (full bust)
If front closures aren't for you, try the
back closure style
.
Leading Lady Womens Cotton Sports Bra
Super comfortable and great for everyday wear or even sleeping. It's a low impact sports bra, with no underwire to dig into tender skin. It's nearly entirely made of cotton too (96%), so it will be cool and comfortable in hot weather or if you get hot flashes. There's no seams to show through your clothes, either. It has a high front, so it's best under jewel neck or turtleneck tops. There's no metal or clasps, just pull it over your head. Another thing, it comes in larger band sizes up to 56 and cup sizes up to G!
Comes in black, blue tie dye, gray, white, blue print, plum, purple, and burgundy floral in US sizes 36B/C/D through 56 DD/F/G. Note that the size listings are doubled on Amazon for some reason. (full figure, large band/small cup).
Champion Curvy Sports Bra
Cute cutouts in front, and an inset strappy design in back gives this bra a fashionable look and feel. The straps adjust so you can get just the right length, and the cups are molded (shaped) so no uni-boob. Most of all, it has both mesh panels (to let the air out) and special moisture wicking technology to keep you dry and comfortable. It's a medium impact bra, so there's more support if you're feeling especially sore. Since there's a regular clasp, it's easy to remove at the end of the day.
Comes in a boatload of colors with contrasting trim, including reds, pinks, blacks, purple, mint, stars, stripes, or just plain black. Sizes XS-XL (roughly US 32A through 38D) (average cup).
Playtex Active Lifestyle 18 Hour Bra
This bra breathes like cotton and won't leave you feeling hot and sweaty. There are no underwires to pinch or poke, and the underband gives soft, gentle support under your breasts. Slings on the sides of the cups help push you forward and give better definition (no uniboob). The straps are soft and wide for better comfort; they're also inset in back so they won't slip.
US sizes 36B-D, 38B-DDD, 40-42 B-DDD, 44C-DDD, and 46DD in ivory, beige, white, black, and pale lilac. (full figure)
Go for a Bralette
Bralettes have become a big fashion trend, but in this case they are also practical. They're lighter, less structured, and have no wires by design. Physics dictates that they are mostly made for smaller busts, but there are a few designed for larger sizes and fuller figures. These are especially good for leisure wear, when you want some support but not a full-blown bra.
Calvin Klein Womens Modern Cotton Bralette
Made of a soft cotton blend with no wires, hooks, or bulky padding. Just pull it over your head and you're done. The elastic underband helps keep everything in place when you bend over. There are no seams or lace to show under clothing either. Keep in mind that Calvin Klein runs small!
Also since there is no wire, this is a better choice for smaller busts (or just lounging at home if you are larger).
Comes in blues, reds, black, green, white, black, stripes, plus logo prints in sizes XS-L (some colors go up to 3X). (average cup/plus size depending on color).
I have included pictures of both average cup and plus size so you can see how it looks on different body shapes.
Eberjey Pima Cotton Soft Cup Bra
Fashioned from super-soft pima cotton, with only a touch of elastic. It's 92% cotton! There's no decoration, just a tiny lace trim along the edges of the cups.
No wires or slings or bulky padding either, just a light lining for modesty and a touch more support. This is a great lounging bra on the larger side and just perfect for smaller busts that don't need a lot of support.
Available in white, beige, charcoal, and black in sizes S/M and M/L or 32-36 A-B and 32-34 C.
Leading Lady Plus Size Wirefree Bralette
Perfect for lounging around when you just want a bit of support (and modesty) without a full-blown bra. Unlike most bralettes, this one comes in larger sizes. It's nearly entirely soft smooth cotton (95%) with just a bit of lace trim around the top and along the bottom of the band.
Think of it as a mini-camisole, with just enough bra for modesty (if you need to answer the door or take out the trash) but no wires or heavy structure.
Comes in blue, white, heather gray, and black in sizes S-3X (roughly US 32A through 54G)
Wacoal B-Smooth Wireless Bra
A bit of a cross between a bralette and a sports bra, with enough support for light exercise, without any wires. There's some padding, but you can take that out if you prefer. It will also keep you smooth because the sides and back are high, to help combat lumps and bulges.
Wear it around the house, for power walking, or under everyday clothes: it's multifunctional. The material is cooling so it will keep you comfortable when your temperature changes.
Lots of shades of blue, pinks, red, black, gray, wine, lavender, and beige in sizes 32-40 (roughly 32-40A-D) (average cup)