Ever been frustrated trying to find a skin tone bra that actually matched (or even came close) to your skin tone? In my case, most of the bras are too dark (I'm sort of a vellum/pale gold color). Which is annoying.
It's even more annoying, and traditionally even more difficult, if your skin is latte, amber, chestnut, walnut, or mocha. It's a sea of "nude" that isn't really.
Now, I'm also aware, that as a relatively pale person, my sense of skin tone differences isn't as acute as it could be. So, I tried to be as scientific and consistent about this as I could.
First, I found a skin tone color chart online, with skin tones from pale porcelain to dark ebony. Then I went through all the bras in every skin tone I could find and matched them up to the skin tone labels.
To do this, I used a color meter tool. If you're not familiar with what that is, the short explanation is that it breaks up each color into a formula (it's used for web design and printing so you can get the same shade every time).
Then, I used the color meter on each bra photo, got the formula, and then matched it against the colors of the skin tone images. I chose the closest formula color I could find.
Now, a few caveats, what looks similar on my screen, and to my eyes, at my desk may look different under varying light conditions, in different rooms, and on different computers.
However, at least it gives you an idea where each bra falls on the spectrum and the colors are grouped and labeled consistently. This is particularly important since the color names are not uniform across brands. One brand's mocha color is another brand's cappuccino color. I've seen bras labeled cappuccino that are sort of a coffee with milk color while others are a black coffee color.
I can't embed the chart here, because it's not mine and I don't have permission to use it, but this is a
link to the color chart I used
.
I've divided the color groupings into color categories (matching the chart), and created a post to match each set. It was originally going to be one post, but it got out of control! So now it's four posts (one for each group).
They are:
Light: porcelain to peach (this post)
Medium light: cool sand to olive
Medium dark: sienna to chestnut
, and
Dark: bronze to ebony
Each post has a heading on top, and then all the subcategory colors listed underneath. I've also matched up the color name of the bra with the color name on the chart. So, for example, Wacoal "ivory" equals "warm ivory" while Vanity Fair "ivory" is "porcelain."
Although these posts are about bras that fit your skin tone, rather than your body shape or size, this blog is still "find a bra that fits". So, each bra is also labeled with the sizes it comes in and the body types (average, small bust, full bust, full figure) for which it is best suited. Since color is what's important here, I've only listed the skin tone colors for each bra (many come in blues, reds, prints, purples, etc.). Since some of the bras come in multiple suitable skin tones, they may appear more than once.
Bras for Light Skin Tones (from Porcelain to Peach)
This includes shades of porcelain, ivory, cool ivory, warm ivory, rosy cream, cream, wheat, latte, cool peach, and peach.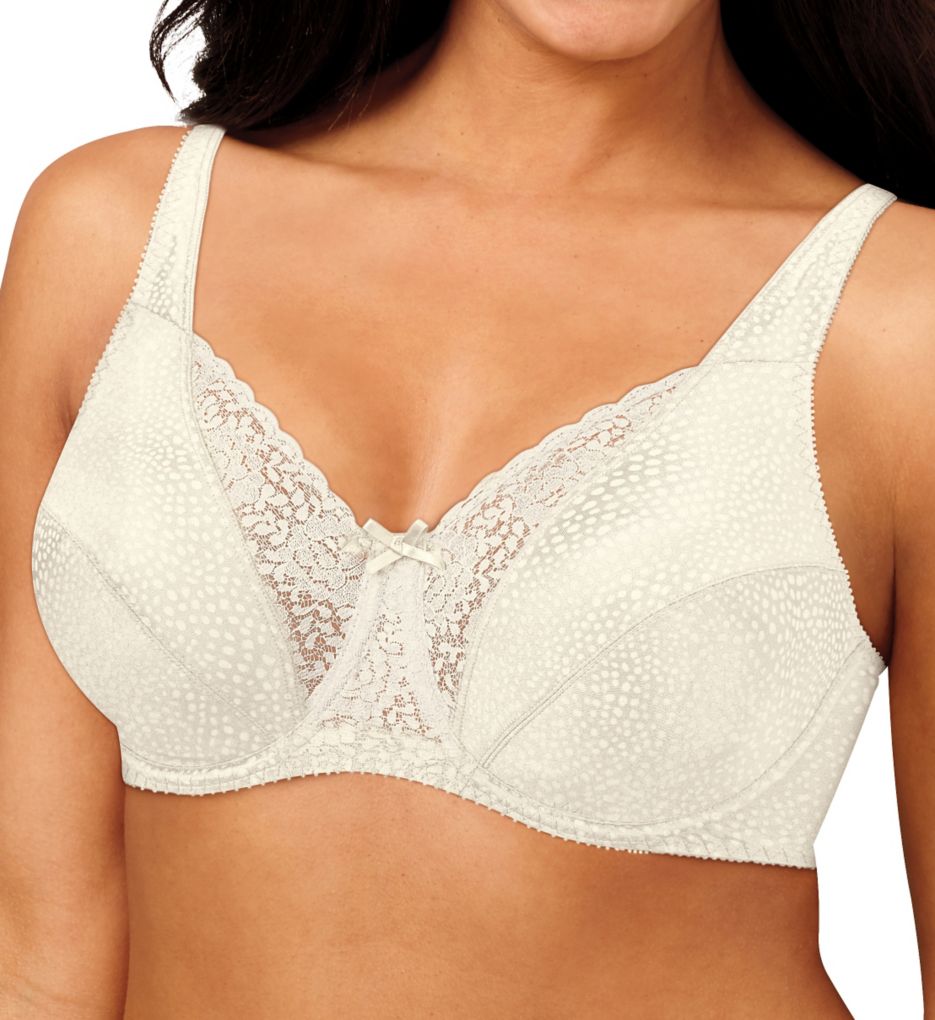 Playtex Secrets Full Figure Bra 4422 Mother of Pearl
A little lace, a floral design, and a tiny bow all add up to a bra you'll be happy to look at, and feel good wearing. Plus size shouldn't mean dull and boring. It's not just pretty though. It also has plenty of support and comfort features. For example, higher sides and back to hold everything in, and stamp out back and side bulges. The cups are rounder and wider for better superior support and containment, and they stretch for a better fit. It also has hidden slings that cradle your bust and provide more lift.
Mother of Pearl (equals porcelain)
US sizes 34C-DD, 36B-DD, 38B-DD, 40C-DDD, 42 and 44 B-DD.
Full figure
Vanity Fair Women's Beauty Back Full Figure Underwire Bra 76380 Ivory
Sick of back fat? This bra makes it disappear. The high sides and "beauty back" on this bra help smooth out lumps and reduce side and back bulging. The cups are smooth, with a pretty appliqué in the center. The contour construction makes it a perfect t-shirt bra (no headlights will show through). It's not padded, just thick enough for modesty, without additional bulk.
The wide center panel is best if you are wide-set. If you are close-set, you might pop out of it!
It also has a leotard back, which will help keep the straps in place (no slipping or sliding).
Ivory equals porcelain
Sizes 36C-44DD (not all sizes available)
Full Figure
Bali One Smooth U Light Beige
Versatile, and comfortable, this bra can be worn the usual way or converted to criss-cross. It's not padded (just shaped) so there's no extra bulk. The inner slings give you great support and a natural, rounded shape under clothing. It's completely smooth, with just a band of sheer mesh along the cups.
And, it really is comfortable. You won't want to tear it off the minute you get home. There's a bit of stretch in the cups for a better, more comfortable fit that will keep everything contained where it belongs.
High sides and back hide unsightly bulges and it has a leotard back to help straps stay put.
Light beige (equal to porcelain)
US sizes 34-42B-DD
Average figure/full figure
Maidenform Love the Lift 9428 Ivory
Boost your bust with this uplifting bra. Graduated padding makes you look bustier, without looking fake. It pushes you up from the bottom and sides for a more natural look. The low neckline is ideal for summer tops, and there are no seams to show through under clothes. There is a bit of lace between the cups and near the bottom of the straps for an extra flourish.
Maidenform does tend to run small, so if you are between sizes, order up. The material is super-soft and comfortable against your skin
Ivory equals ivory
34A-38D
Average figure
Calvin Klein Seductive Comfort F2892 Ivory
Get a boost with this low cut, padded bra. The padding is graduated, so it looks more natural and gives you a lift (rather than just making you look larger). Instead of bulk, you'll lovely shaping and great cleavage. And, the material is soft, with a nice satiny sheen.
Better if you are shallow, especially at larger sizes, since it's a plunging neck and Calvin Klein tends to run small anyway. You may want to try a cup size up.
Ivory equals warm ivory
US sizes 30C-DD, 32A-DD, 34A-DDD, 36SA-DDD, and 38C-DD
Small bust/average figure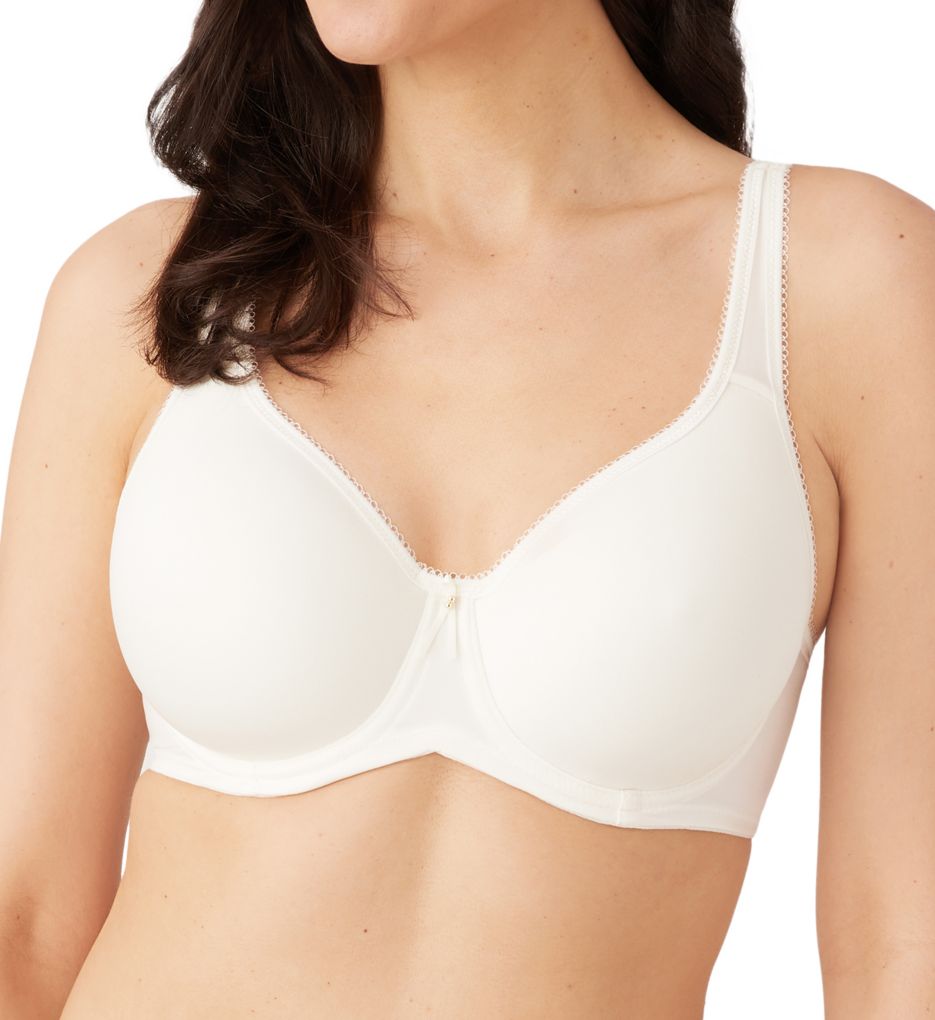 Wacoal Basic Beauty Underwire Spacer Bra Ivory
Spacer knit fabric helps this bra support you comfortably and beat the heat at the same time. It's got side slings to push you forward and keep breast tissue from sliding under your arms. The straps are close-set, which helps stop them from sliding off your shoulders. The sleek, polished, no-fuss design won't show under clothing (since there's no seams, lace, or mesh).
Ivory (equals warm ivory)
US 30D-G, 32-40C-G. 42-46C-DDD
Full bust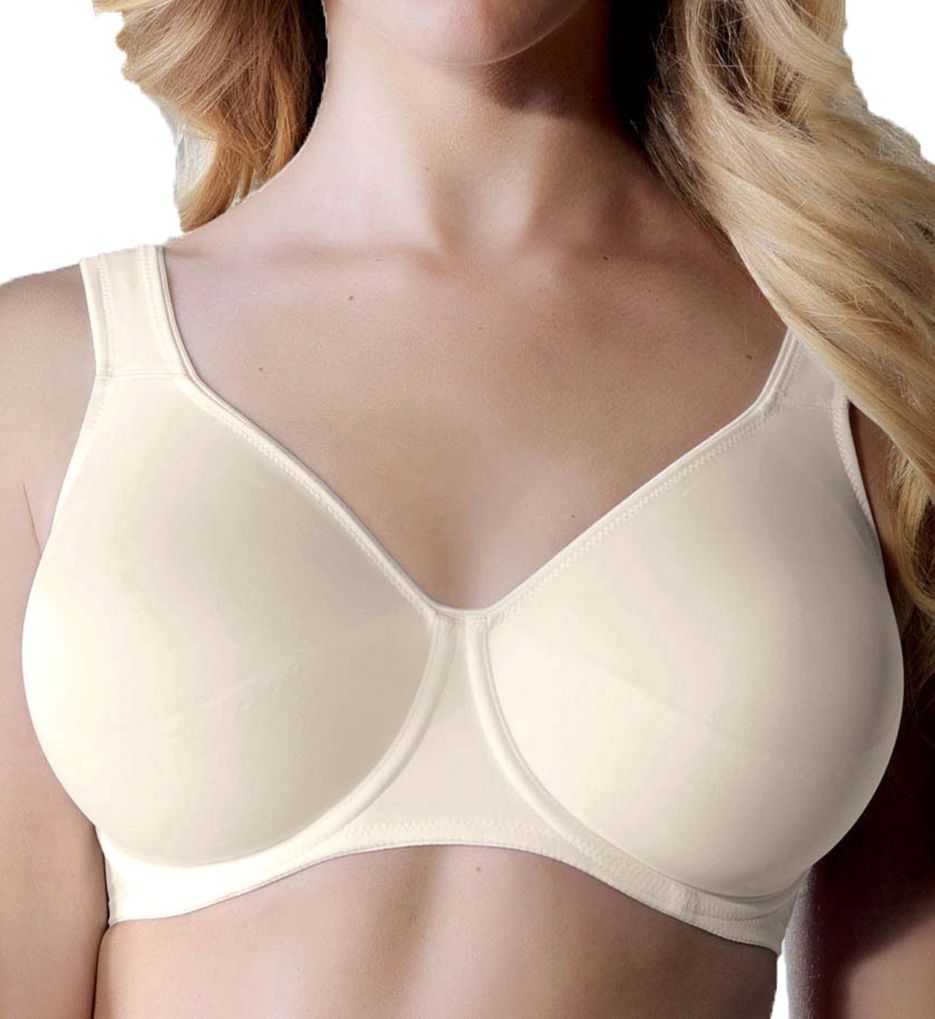 Anita Rosa Faia Twin Seamless Champagne
An extra supportive layer of fabric gives you a great, customized fit. without being too sheer. It's still lightweight and comfortable, even in hot weather. Since it's seamless and completely smooth, the bra won't show under your clothing (and thanks to the double layer, neither will you).
Larger sizes have inner slings, wider straps, and a heavier underwire for more lift and better support for bigger breasts.
It's got a wide center panel, so it will fit better and be more comfortable if you are wide-set. Since it has center pull straps, they'll give you a bit of extra lift (great if you are shallow or sagging).
Champagne equals warm ivory
EU sizes 30C-H, 32-38H, 40B-G, 42B-F. 44B-F.
Full bust/full figure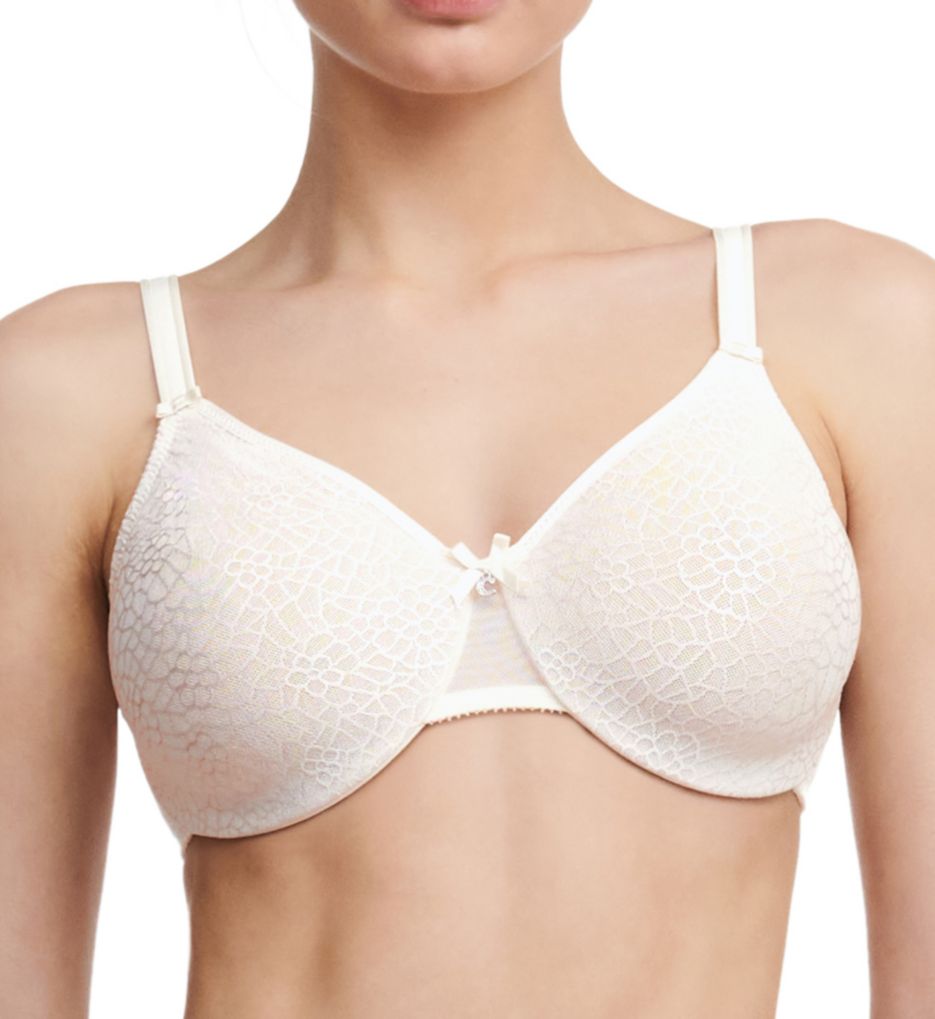 Chantelle C Magnifique 1891 Ivory
Get a custom fit with a foam lining and stretchy fabric cups that adapt to your shape for a better fit. There's just enough lining to keep the headlights under control without adding extra bulk (after all, it's a minimizer, we don't want bulk!).
It will reduce your buntline's appearance, making you look smaller, so your tops and shirts will fit better. Inset fully-adjustable straps are perfect for sloping shoulders or women with long torsos (or if you're just plain tall). You'll get a soft, natural looking rounded shape that will look great under clingy shirts and t-shirts.
There are no seams to show under clothes and no lace, just a light jacquard pattern.
Ivory (equals warm ivory)
EU sizes 32D-I, 34-38 C-I, 40-42C-H, and 44C-F (sizes are C,D, E, F, G, H, I)
Full bust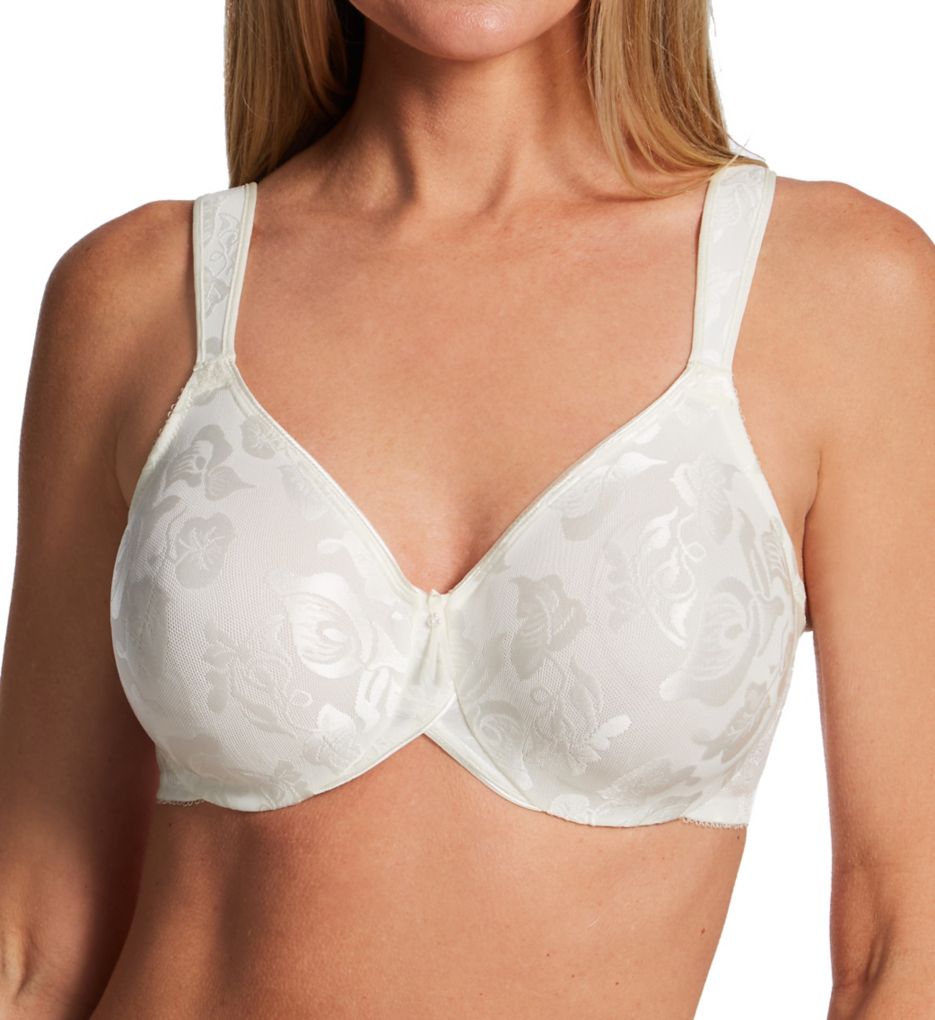 Wacoal Awareness Underwire Full Figure Bra Ivory
Great for wearing under t-shirts, this bra is completely smooth, with no lace or seams to show under clothing. It's got excellent lifting power too (great if you tend to sag). It's not strictly a minimizer, but it will compress you a bit for a smoother look under clothing.
The center pull straps are also better for pendulous breasts (it centers the lift over your breast tissue). It's not only supportive, it's also pretty. The cups have a floral design and it does not look like a granny bra (even though it comes in cup sizes up to I.
The larger sizes have extra hooks in back for better support. The band runs a bit on the small side, so you may want to adjust (up a band size and down a cup size) to get a better fit.
Ivory equals warm ivory
US sizes 32D-G, 34C-I, 36-40C-I, 42-44 Through H
Full figure/full bust
Little Bra Company Elizabeth Sports Bra Ivory
Designed for petites, this bra is super soft and will stand up to both everyday activities and workouts. It's got seams and darts for shaping and support with a plunging neckline that won't show under t-shirts or workout wear.
It does have padding, both for additional size and for modesty. The cups do seem to be running a bit small, so if you are in-between, order a size up.
Racerback straps aren't adjustable, so keep that in mind.
Ivory equals warm ivory
US sizes 28A-38A
Small bust/petite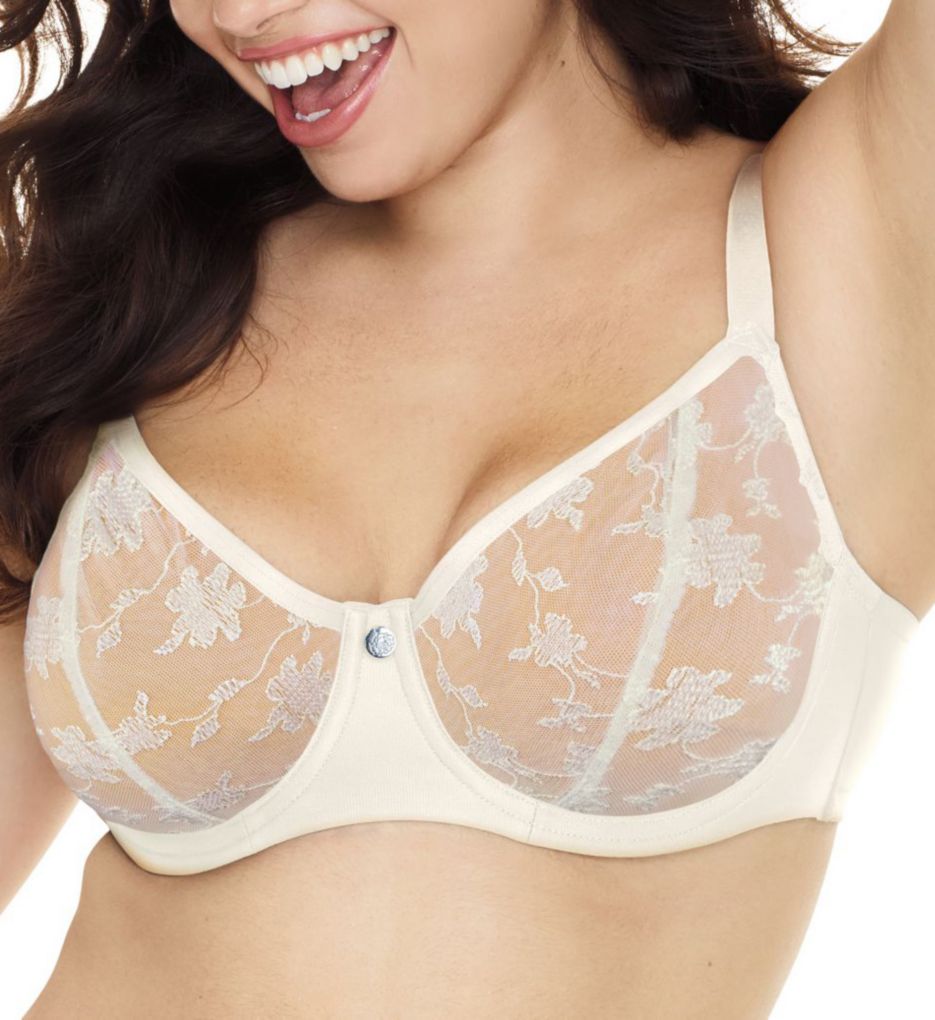 Just My Size Curvy Balconette MJ1203 Mother of Pearl
Vertical seams give shape and help boost your breasts up where they belong. Sheer mesh, embroidered leaves, and lace give this bra plenty of sex appeal. The lace is sheer, but the bra is lined so it's not see-through. There's some spandex fabric in the back for bulge control and stretch. Elastic edges give a bit of extra stretch for a better, more tailored fit.
Mother of pearl equals ivory
US 38D-DD, 40c-DDD, 42C-DD, and 44-66 D-DDD.
Full figure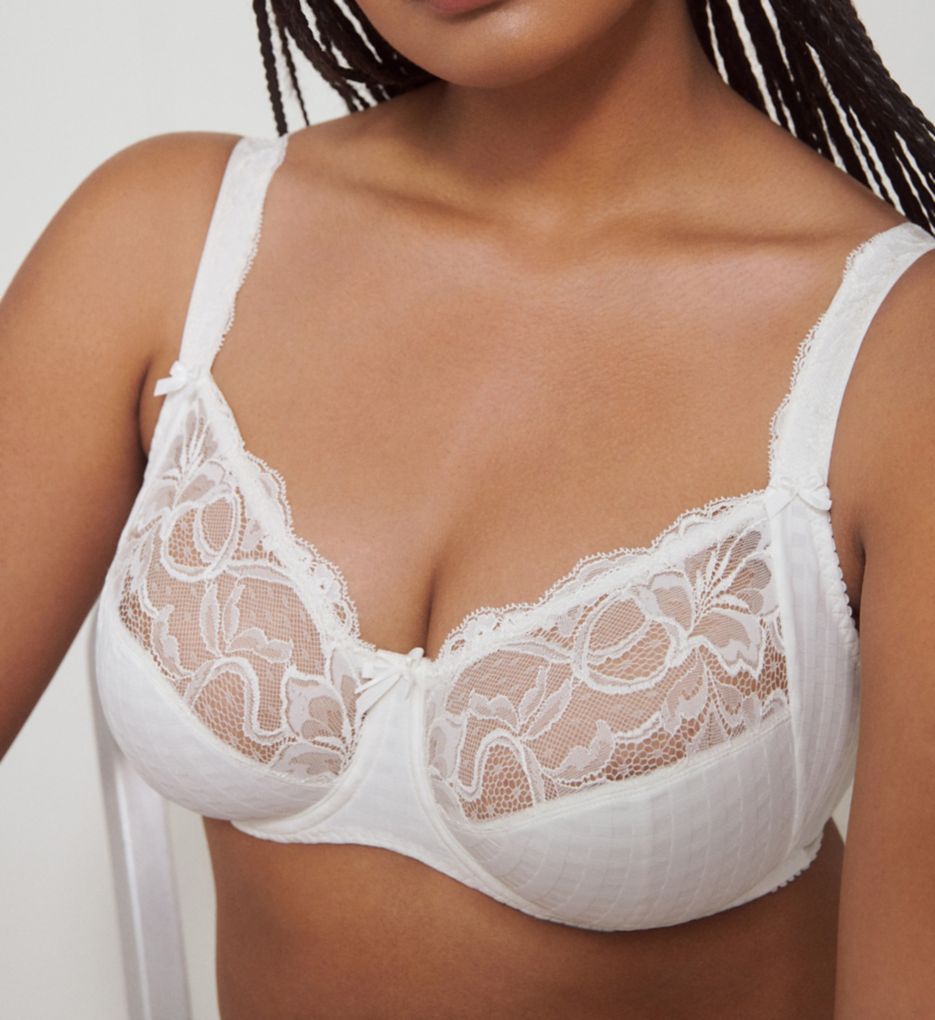 Prima Donna Madison Natural
Exquisite lace and exceptional construction and fit combine to create a bra that's supportive and beautiful. If you're a value shopper, this bra is not for you. If you appreciate luxury and fine craftsmanship, and need exceptional support, it's perfect. And they last and last and last. You won't have to keep replacing them every few months (just make sure you don't wear the same bra every day).
The cups are exceptionally deep, so it's ideal for fuller, rounder breast shapes. It will keep everything in place exactly where it belongs, while still looking elegant and refined,
The lace has some stretch for a better fit and the arched seams on the cups add support and lift. The seams, along with inner support panels, also push you forward and move extra tissue out from under your arms.
Natural equals warm ivory
EU sizes 32D-I, 34C-I, 36-44 B through I, and 46 F through H.
Full bust
Prima Donna Madison Latte
Yes, this is an investment. It's luxurious, beautiful, and meant to last for years (not months). One woman reported her bras lasted 16 years! (Wow, and I thought my Marie Jo was doing great at 11). The full cups and full coverage design are perfect if you are round and full (or for implants).
There are panels on the side for additional support and shaping. This pulls you forward, and keeps everything centered where it belongs, and away from under your arms. Fantastic for larger bust sizes because the support is so good, and the seams used help both lift and shape you (for a more rounded look). Also, the lace on top is stretchy, so you'll essentially get a custom fit (great if one side is bigger than the other).
Latte equals latte
EU sizes 32D-I, 34C-I, 36-44 B through I, and 46 F through H.
Full bust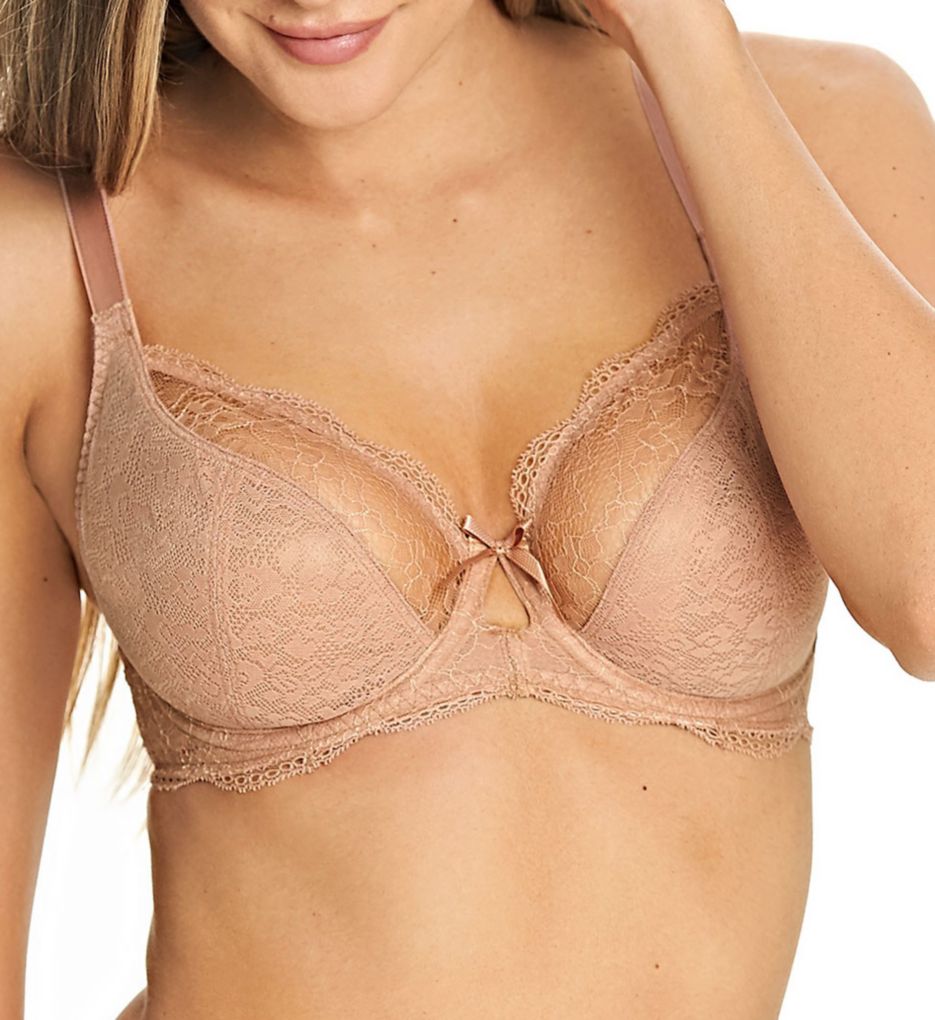 Freya Fancies AA1101 Latte
Pretty, lightweight, but still strong enough to hold up G cups. The cups are embellished with a lace overlay and trimmed top and bottom with scalloped lace (it's along both the top and the band). There's a cheeky keyhole opening too. You may wonder at the back (just one hook? In a G cup?).
There's an elastic band in the back plus a gated style for excellent support without also those heavy (and hard-to-close) hooks.
Cafe au Lait/Latte equals Latte
UK 28D-30 D through G, 32C-G, 34-38C-G.
Full bust
Panache Envy Latte
An eye-catching design that mixes lace and something you might not expect…houndstooth. The balconies shape is super-flattering, and stretches for a better fit, and to prevent the dreaded quad-boob effect.
It has a leotard back, which will keep the straps from slipping. And, the straps are fully adjustable (up to a G cup), so it's a good fit if you are extra tall or extra short. Speaking of short, the underwires are also short, which means it's more comfortable if you have a shorter torso (the wires won't dig in under your arms).
Vertical, angled seams, and non-stretch lower cups combine for extra lifting power and support, keeping everything up where it should be. You may think you've lost weight, without sacrificing a single calorie or lifting one barbell.
The center panel is narrow, so it's best if you are close-set.
Latte equals Latte
UK sizes 28F-H, 30D-K, 32-40D through K (D, DD, E, F, G, GG, H, HH, J, JJ, K)
Full Bust
Vanity Fair Women's Nearly Invisible Full Coverage Underwire Bra 75201 In the Buff
Called nearly invisible for a reason, this style will disappear under your clothes. The top edge of the cups lies completely flat, so there's no weird bulge under t-shirts. It's super light too, so you won't feel weighed down by your bra. There's padding for modesty, but it doesn't add any bulk, just keeps you looking smooth. Plus, the straps and the hooks are backed with soft, comfortable material so they won't irritate your skin.
It's got a low neckline, so it won't show under most tops. And there are four shades of "nude" from light to dark (see each section for your shade).
In the buff equals rosy cream
US sizes 43B-40DD
Average Figure
(This also comes in a
full figure style
in the same colors up to a 44DD).
This bra appears dainty, but that lace hides lots of support and lift. Freya specializes in full bust bras (this one goes up to a G cup; and its sister bra (AA1012) goes up to K! One of the secrets is that the back is "gated" which helps keep it from moving or sliding around, despite being thin and delicate-looking.
Another trick is the shape and style of the seams: vertical seams create lift, and the angled seams add extra support and shaping. The lace is fairly flat, and won't show lumps and bumps under clothes.
The straps are fully adjustable, so you can get them the right length for your height.
Natural beige equals rosy cream
UK 28D-30 D through G, 32C-G, 34-38C-G.
Full bust
Little Bra Company Sascha Pearl Lace Strapless Bra
Perfect for special occasions that call for a strapless bra (or wear it with the straps three other ways: standard, criss-cross, or halter).
The smooth cups are overlaid with lace for an elegant, sophisticated look.
Note that Little Bra Company bras are specifically designed for smaller bodies, that means petite, small busted, and with the cups closer together than average body bras. This particular style is better if you are wide-set (spot that wide triangle in the center).
Pearl lace equals cream
US sizes 28A to 38A
Small bust/petite
Maidenform One Fab Fit Original Tailored Demi T-Shirt Bra 7959 Blush
This has just a bit of padding, enough to hide the headlights, and make you look a bit bigger, without looking fake. The cups stretch two ways, for a better, closer fit to your body's natural shape.
There aren't any seams or lace to create bumps or lines and the bra is virtually invisible under your clothing. It's got a low neckline, which is perfect for plunging tops.
Blush equals cream
US sizes 32A to 38DD
Average figure